What is the SELEP Strategy Network?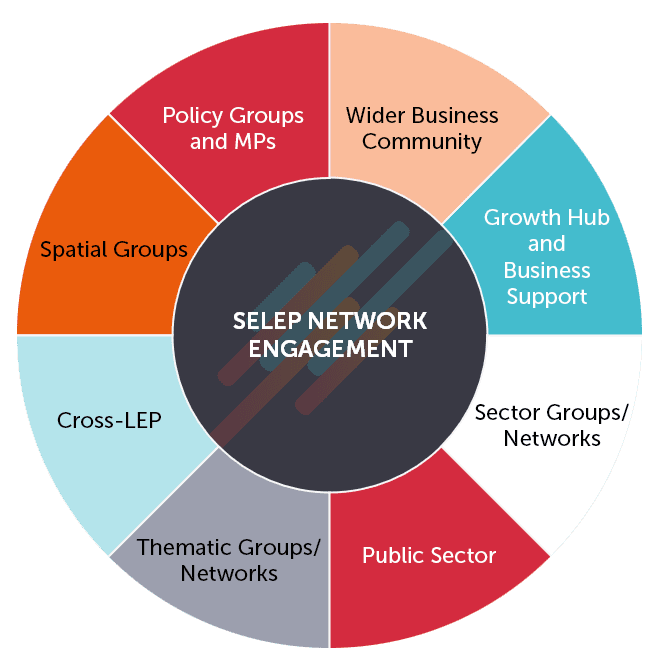 Our strategy network is made up of partnerships, groups and organisations that have an interest and stake in economic growth in the South East.
With responsibility for strategic economic growth SELEP facilitates a valuable and active network that engage in thematic, sectoral and policy matters from across businesses, public sector and academia.
This strategy network is crucial to enable SELEP to fulfil our role as the voice of business and to effectively drive growth through collaboration and strategic economic planning.
What the Strategy Network Offers
– A regional collaboration of organisations and individuals with a remit or interest in economic growth across the South East LEP
– Ability to convene regional level activity through groups/forums across sector, thematic and policy
– Provision of resources and robust and comprehensive data and intelligence on our economy and place and analysis that supports evidence-based decision and action
– Strategy expertise at the regional level to identify and seize scalable opportunities for growth
– Ability to coalesce resource to unlock funding and investment for economic growth activity
– Agility to respond to economic opportunities quickly, through knowledge, expertise and extensive partnership
SELEP Working Groups
As part of our network, SELEP has active working groups. These are collaborations of public and private sector partners who come together around a particular theme, sector or topic and support the delivery of SELEP priorities. SELEP supports the work of these groups and ensures cross cutting opportunities and challenges are identified and, where possible, actioned.
Further information about can be found on our Working Groups pages.
---
Strategy Network Resources
Economic Intelligence & Research
SELEP analyses a wealth of economic data to support all our activity and that of our partners and wider network. Please visit our data repository to review and source our economic data and analysis.
SELEP undertakes work to support topics and themes that underpin the activity of the LEP, its working groups and partners. More recent work includes:
---
SELEP Prospectuses/Strategies/Reports
SELEP working groups have published documents that set out their environment, challenges, opportunities and ambitions. These can be found below.
---
Government Policy
SELEP supports the delivery of key Government policies aligned to economic growth. These include:
---
Policy & Consultation Responses
SELEP plays an important role in responding to live policy and consultations that support the development of economic growth policy, funding and activity. More recent ones include:
---
SELEP is happy to promote the work of partners. As a member of the Strategy Network, if you would like to feature any of your aligned resources, please contact SELEP Sector Engagement Lead Alex Riley: alexander.riley@southeastlep.com