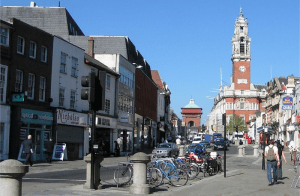 Seven towns in the South East LEP area can bid for their share in the £3.6bn Towns Fund pot. Colchester, Grays, Harlow, Hastings, Margate, Newhaven and Tilbury have been named in the list of 101 towns that could benefit from the Towns Fund pot, created by government to bolster economic opportunities, with a focus on urban regeneration, improved transport, connectivity, skills and culture.
Each town could receive up to £25m if they can make a strong bid for funds to create jobs, support local businesses and diversify the towns' economies. The chosen areas have been granted capacity funding by the Ministry of Housing, Communities & Local Government (MHCLG) to support their Town Deal proposals.
In a move away from a focus on Cities deals, City regions and Mayors, government is asking each Town Deal to be supported by a board, developed by the local council and led by a representative of the local business community. The boards should be established to harness a range of perspectives from businesses, investors, educational facilities and local authorities to understand a town's assets, its unique story and create strong community leadership.
The South East LEP will play a key role in developing the initial processes to bid for the funding in the seven towns across the South East, with MHCLG noting that LEPs must be represented on the Town Deal boards due to their strong specialism in economic development strategy, business engagement and the local skills system through Skills Advisory Panels. Boards should also include MPs, local government, community representatives, investors and local businesses, both large employers and SMEs.

MHCLG has outlined the first stage of the Towns Fund process in a new prospectus, allowing towns to start establishing the processes needed to put together strong proposals. Town Deal boards must be in place by the end of January 2020 and Town Investment Plans must be completed by end of summer 2020.
The second stage will see towns using their locally owned Town Investment Plans to put together their business cases to apply for funding, the core public investment part of which will come from the Towns Fund with additional funding potentially available from other sources or parts of Government.
South East LEP Chair Christian Brodie said:
"This is extremely welcome news for all areas under the South East LEP. The Towns Fund could bring up to £175m into the South East, with each of our seven towns listed in the new prospectus eligible to attract up to £25m to create sustainable, prosperous communities and, in turn, strengthen the entire region.

"We as a LEP have been strong advocates for towns being the fundamental building blocks to economies like ours, as we do not have lots of big cities which have traditionally attracted lots of resources. We will work alongside business and public sector leaders to do everything in our power to ensure that the Town Deal boards put together strong proposals to keep employment and business growth high in the South East, in line with our Smarter Faster Together Economic Strategy Statement."