Welcome to
Smarter
–
Faster
–
Together
 our Economic Strategy Statement
Productivity, as measured by the amount of work produced per working hour – is the main driver of long term economic growth and higher living standards. With employment levels high – particularly across the south east – the challenge of securing our future prosperity depends less on getting people into work, than on increasing the value of the work we do. This principle has guided the development of our Economic Strategy Statement.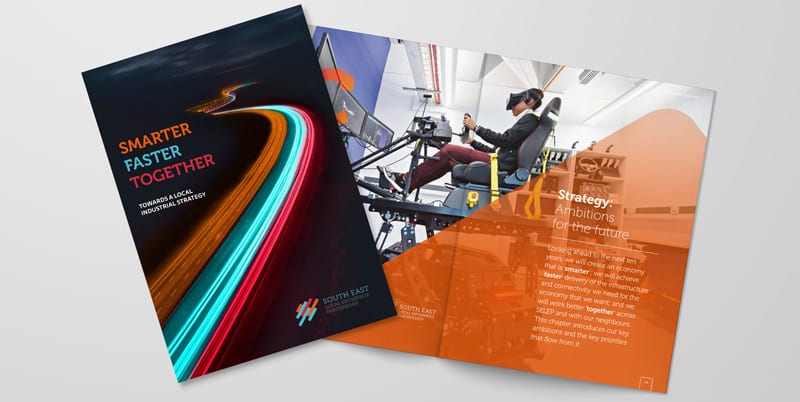 It sets out our ambitions for the south east economy and how we will achieve them:
tackling housing shortages
relieving pressure on infrastructure
improving skills across our workforce.
It outlines the action we will take, over the next five years, to deliver on the Government's National Industrial Strategy, and sets us on a pathway towards a robust Local Industrial Strategy for the south east. Through our new Economic Strategy Statement #SmarterFasterTogether, we will:
Work

SMARTER:

 Increasing the productivity of the South East LEP area.
Deliver FASTER: Accelerating housing and infrastructure delivery to meet planned growth.
Work better

TOGETHER:

Collaborating across the Greater South East, with Government and with business.
Top Priorities
To deliver our longer term ambition we have identified five priorities to guide SELEP's actions for the medium term over the next five years
View online
Take a look and join in . . .
Use the 'X' button at the bottom of the Flip Book viewer to see the document in full screen.
Download
Smarter Faster Together - our new Economic Strategy Statement
Our new prospectus for a more productive and more prosperous economy in which everyone has the opportunity to succeed.
Smart Faster Together
SELEP Area Map
Area Map accompanying our new Smarter Faster Together prospectus. Giving an overview of economic assets across the South East LEP area.
SELEP Area Map