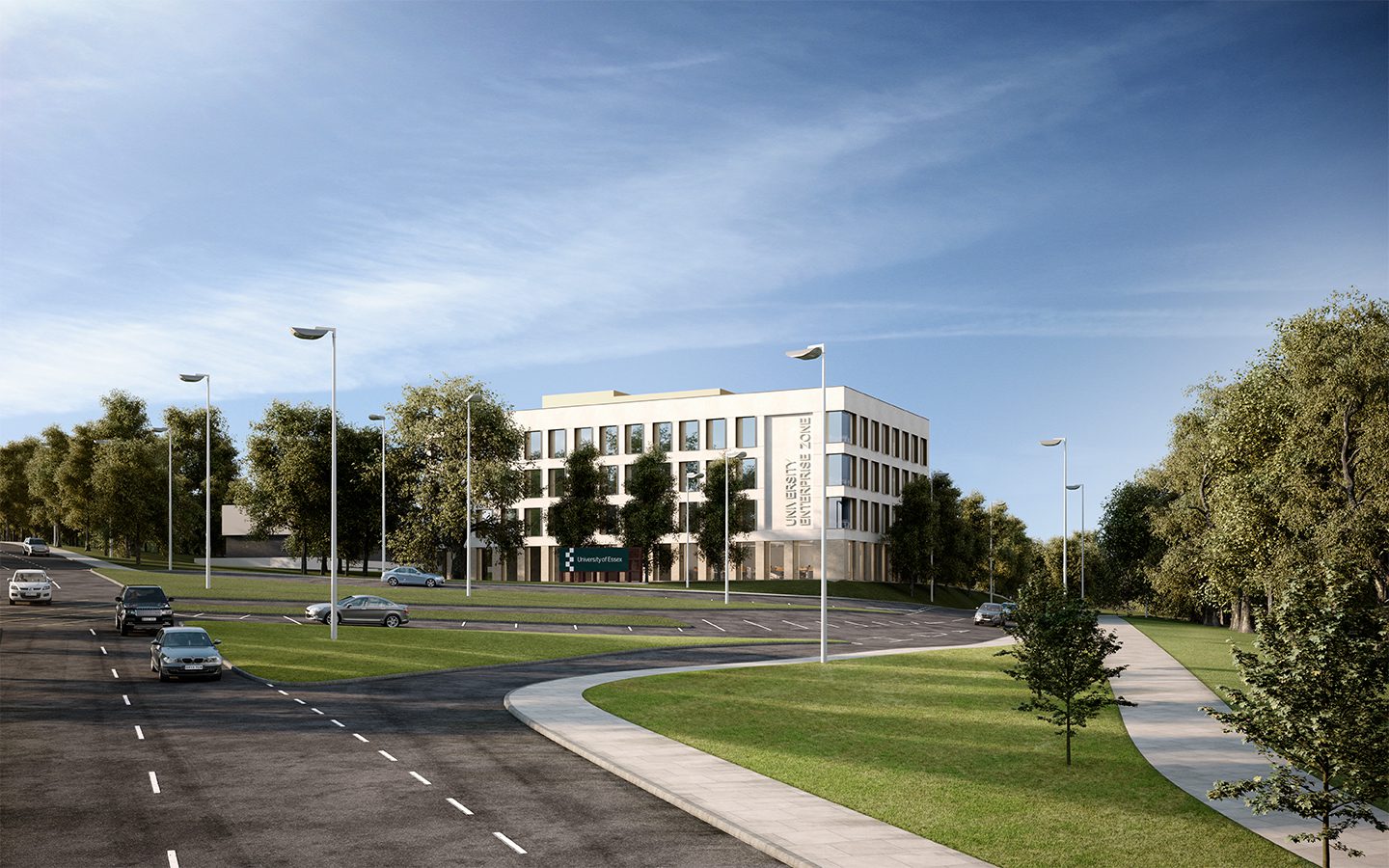 The South East Local Enterprise Partnership (SELEP) has awarded the University of Essex a £5 million funding package from the Local Growth Fund (LGF) for Phase 3 of the Parkside Office Village project at its Knowledge Gateway research and technology park.
This latest phase will extend the highly successful Parkside Office Village to offer more space for businesses wanting to co-locate at the University's Colchester Campus as an anchor tenant.
One of the purposes of the project is to help retain highly skilled workers within the local economy who would otherwise move away from the area after graduation. There are currently 25 businesses located at Parkside Office Village, collectively employing 270 people, 34 of whom are graduates or students of the University of Essex.
The University of Essex said the aim of Knowledge Gateway for Phase 3a is to secure an anchor tenant to occupy the entire building, which will be a four-storey structure with a total area of 4,771sq m. Thanks to its design flexibility, the building could alternatively be sub-divided up to 14 smaller units suitable for smaller businesses.
Overall, the £10.5 million project is expected to deliver up to 300 jobs by 2022. SELEP previously provided Growing Places Fund (GPF) loan funding to support the earlier phases of development at Parkside, including a £3.25 million GPF loan to support the initial phase of the development.
SELEP also provided £2 million in LGF support to the Innovation Centre, Knowledge Gateway, another key part of the University of Essex's Knowledge Gateway research and technology park. Opened in Spring 2019, the Innovation Centre is a partnership with leading operator Oxford Innovation and is designed to attract and support new and growing innovative businesses. These companies can then potentially move on to the Parkside Office Village to grow further, creating a sustainable business eco-system across the University of Essex site.
SELEP Chair Christian Brodie said:
"We have already seen how high the demand is for these units at the University of Essex's Parkside project, with all units constructed in Phase 2 of the project pre-let before the site even opened. SELEP is confident that market interest will remain high among businesses for Phase 3 of the project, which will in turn help create and a retain a culture of highly skilled graduates finding employment within the area.

"This project will also feed into wider plans for Colchester and the surrounding area. The A120/A133 Link Road and Rapid Transit System plans, part of the Tendring Colchester Borders Garden Community development, will enhance access to the University's Knowledge Gateway and link the site to the national rail system."
University of Essex Registrar Bryn Morris said:
"We're really grateful SELEP is backing our ambitious plans for the Knowledge Gateway. This will create high-quality new office space which we think will be very attractive to businesses keen to link with a top university at the forefront of key sectors including data analytics, artificial intelligence, robotics and life sciences.

"We are proud to continue to drive forward the knowledge-based economy in north Essex – creating new jobs and opportunities."
---
For all press and media enquiries, please contact:
Ellie Clow
Communications Officer
Email: eleanor.clow@southeastlep.com
Tel: 03330 136839