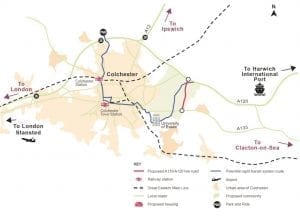 A new consultation has been launched on the options for the A120/A133 Link Road and Rapid Transit System (RTS) in Colchester, which received £99.9m from the Housing Infrastructure Fund (HIF) in August as part of the Tendring Colchester Borders Garden Community bid, which was backed by the South East Local Enterprise Partnership (SELEP).
The project will deliver a new single carriageway link road and further infrastructure to unlock up to 7,500 homes in the east of Colchester. The infrastructure plans will make it easier for traffic to flow on to strategic roads such as the A120 and A12, therefore reducing the reliance on more local roads of drivers heading into Colchester from Tendring and easing congestion by diverting drivers who typically use Colchester as a thoroughfare.
The Link Road – which will be more than 2km long – will serve a new 'Park and Choose' site (with buses serving more than one destination) as well as managing traffic going to Colchester town centre, and the University of Essex and its Knowledge Gateway Technology and Research Park.
The RTS will bring together key parts of town, offering a dedicated public transport route and alternative travel options for those travelling across the town centre, allowing people to move quickly around Colchester without the reliance of a car.
The consultation – which is running until the 16th December 2019 – looks at high-level route alignment options for both the Link Road and RTS schemes ahead of more detailed design. Essex Highways is supporting the consultation with a series of public drop-in events across Essex, with technical specialists on hand to answer questions.
South East LEP Chair Christian Brodie said:
"We at the LEP welcome Essex County Council's infrastructure-led approach to the Tendring Colchester Borders Garden Community. Ensuring that the infrastructure network is in place will segue into smoother delivery of the new housing community, as well as tackling some of the more general traffic flow problems experienced on Colchester roads and in the surrounding area.

"A new 'Park and Choose' site in the east of the town will complement the existing service to the north, creating yet another economical way for residents from neighbouring areas to visit the historic town centre of Colchester. This will be coupled with a new RTS that will connect the town's two railway stations, nearby Hythe Railway Station, Colchester town centre, Colchester Hospital and the University of Essex in one faster, greener route."
Councillor David Finch, Leader of Essex County Council, said:
"Colchester has seen rapid growth over the past decade, both in terms of meeting its housing needs, but also its thriving economy. As this growth continues, with a new community proposed for the east of Colchester, it is critical that an infrastructure-led approach is taken, helping manage traffic; working to better connect the town and reducing the reliance on the car through encouraging more sustainable means of travel."

"This new infrastructure is dependent on the Borough/District Council Local Plan process which sets out where future housing and business growth should be located. Their plan needs to be approved by the Planning Inspector, but it is critical that we look at preparing for this by setting out how the transport network will be evolved to meet future growth.

"Both the Link Road and RTS system have differing route alignment options, and within this consultation it is important to get views on these. Local people and businesses are best placed to tell us what does and doesn't work in terms of the journeys they make, and their insight on the various options will allow our engineers and designers to take forward and evolve the plans."
For more information on the consultation and to view the brochure for the project, visit http://www.essex.gov.uk/link-road-and-rapid-transit