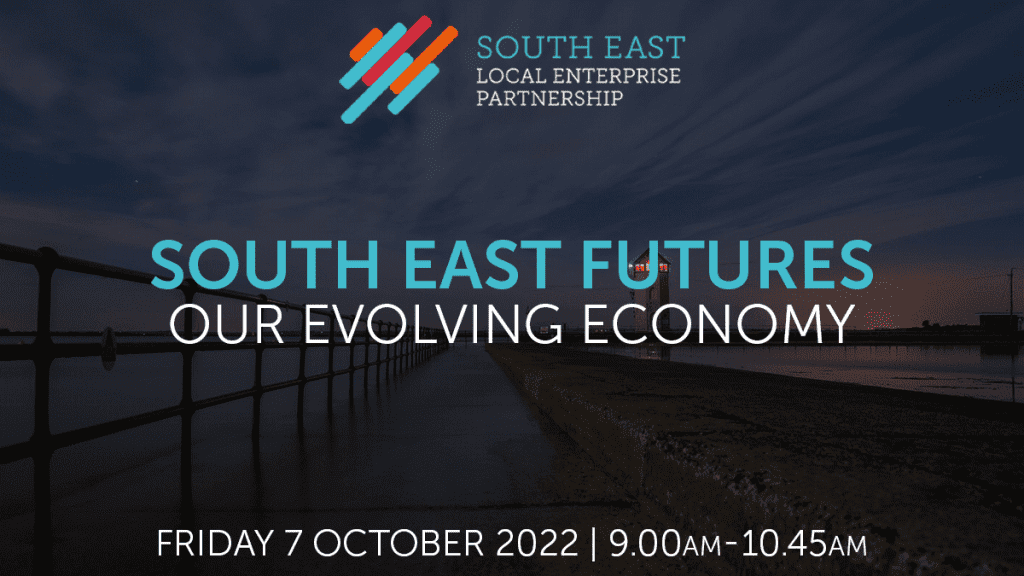 Mark Goldstone, Head of Regional Policy at CBI, stated that what businesses need to adapt to our evolving economy is "clarity, certainty and confidence" during his keynote address at the South East Local Enterprise Partnership's Annual Conference and AGM for 2021-22, both of which were held on the morning of 7 October 2022.
"If we can give that to businesses, they will do what businesses do best which is create profits, create jobs and grow the economy," he said, but noted that to make it happen, we need inflation under control, market stability and support for energy for businesses beyond the next six months.
Chaired by SELEP Deputy Chair Sarah Dance, our annual conference, South East Futures: Our Evolving Economy, explored the changing economic conditions in the South East, what this means for businesses and how the LEP, along with our partners and Network, are encouraging growth and investment to support the South East economy and allow it to flourish.
Goldstone talked about the future economy and what this means for business, noting specific sectoral challenges for the South East, namely hospitality and leisure, manufacturing and construction, and agriculture. He added that the main challenges facing businesses in all industries are how to encourage consumers to spend when the cost of living has risen so drastically, labour shortages and rising costs especially around materials and energy.
We also need access to skills and talent, infrastructure to move goods and people, including digital, a pro-investment environment and smoother trade flow. The CBI is calling for restoration of market confidence to make all of this happen, as well as a credible medium-term fiscal plan to create stable conditions for growth.
Partnership working
Hastings and Rye MP Sally-Ann Hart stated that "partnership working is clearly the most important thing we can do to maximise all the opportunities for levelling up" in her address. Sally-Ann has been a vocal advocate for LEPs and recognises the important role that the voice of businesses has to play in shaping regional growth policy. She spoke about her work as Chair of the South East All-Party Parliamentary Group, which brings together parliamentarians to discuss, with others, how to promote and develop the South East region as a great place to live, work and do business.
She noted that Levelling Up must not be a north versus south divide, adding: "I can't deny that the last few months have been difficult and turbulent, but together, working in partnership, we can and we must grab all the opportunities available and ensure the South East remains a leading region of the UK."
Springtime renaissance
In his regional address, Localis Chief Executive Jonathan Werran spoke of the Government's Levelling Up challenge and what can be achieved in the South East, in the context of Localis's recent research on Resetting the South East, which investigates the role of the South East region in Levelling Up, and what is necessary for its constituent local authorities to deliver – individually and collectively.
"The South East will remain pivotal in spearheading export-led growth," he said. "At the same time, the region has the abundant natural capital to deliver on net zero, energy security and food security. However, the authorities that comprise this area are hemmed in and restricted by financial restrictions, which leaves them unable to respond to the social supply side issues, demographic demands, growth challenges, and service pressures."
He added that the South East has the potential to "spark a renaissance" across the UK, or at the very least an upwards sense of movement, and should spearhead a springtime renaissance for the country's post-recovery era after the difficult winter ahead.
Collaboration for success
SELEP Chief Executive Adam Bryan gave an update on the LEP's future direction in our evolving economy, before Lower Thames Crossing Executive Director Matt Palmer and Thames Freeport Chief Executive Martin Whiteley gave a joint presentation on opportunities for future growth in the South East, including the important work of the South East Major Projects Group.
Martin noted that there is still scope for stronger partnership, adding that "we need to change the nature of the conversation and the type of people who are involved in the conversation" to bring greater diversity to the opportunities in place. Mark added that skills need to be "current and responsive to the needs of business".
"Collaboration has never been more important," he said. "We need businesses articulating what they need and helping providers to put the courses together to meet that need so we have the workforce for the future."
SELEP Deputy Chair Sarah Dance said:
"The aim of today's event is to share insights, to learn from each other and consider the role we can play in the public and private sector to support our businesses and communities during these challenging times. I fundamentally believe that we all have a role to play, and that together we must embrace all opportunities we have to shape our economic recovery and to provide resilience in our local communities."
The full recording of the event is available to view on our website.