Javelin Way Development Project
The Project aims to develop the Javelin Way, Ashford, site for employment use, with a focus on the development of Ashford's creative economy.
Javelin Way site location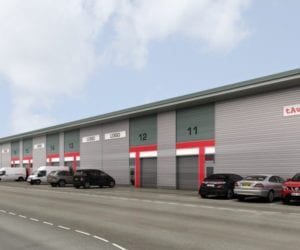 The Javelin Way site occupies the north-eastern edge of the Henwood estate, in Ashford and is bounded by the M20 motorway, open land and the rest of the estate. The site is currently undeveloped, and offers the only opportunity for new development on the Henwood estate.
According to Ashford's employment sites assessment, it is suitable for a range of employment uses (B1, B2 and B8). The freehold of the Javelin Way site is held by Kent County Council (KCC).
The Project consists of two elements:
The construction of a 'Creative Laboratory' production space, with a ground floor area of 1.293 sqm, to be leased from Kent County Council by the Jasmin Vardimon Company (JVC), a major dance and creative organisation
The development of 29 light industrial units, with a gross internal floor area of 3,046 sqm, for sale and/or lease, suitable for additional creative businesses as as the general market. Mezzanine floors will be provided in the majority of the 29 industrial units, to the extent of approximately 92% of the ground floor area
The scheme will accommodate up to approximately 311 full-time equivalent employees, in addition to 21 freelance and contractor opportunities. The scheme will also deliver opportunities for business development in the creative sector, as well as business rate, GVA and educational impacts.
Project costs
The overall cost of the scheme is £9.145 million, with the Creative Laboratory funded by Arts Council England and capital receipts from the sale of the business units.
£1.587 million is provided via the Growing Places Fund to forward fund the development of the business units, bringing forward employment at an early stage and enabling the delivery of the full scheme.
the construction of a 'creative laboratory' production space (a new build two storey dance school)
the development of 29 light industrial units, including external works and new electrical sub-station. Both elements of the Project will be delivered by KCC.
Growing Places Fund

The Growing Places Fund (GPF) was established by the Ministry for Housing, Communities and Local Government (formerly the Department for Communities and Local Government) and the Department for Transport (DfT) in 2011. The aim of this funding is to unlock economic growth, create jobs and 'kick-start' house building at stalled development sites.
Return to Capital Investment