Enterprise Zones in Essex and Kent Announced
Discovery Park in Sandwich, Kent, and Enterprise West Essex in Harlow, Essex, are among 11 Enterprise Zones announced by the government.
The announcement is expected to be marked by a visit from Chancellor George Osborne to the Discovery Park site and from Secretary of State for Communities and Local Government Eric Pickles to the Enterprise West Essex site.
The sites have the potential to generate thousands of jobs and boost the £55 billion-a-year the partnership area pumps into the national economy. They will also contribute to building a highly skilled and internationally competitive Accountability Board Agenda Pack 16.09.201TEXT6for the UK.
Discovery Park Enterprise Zone
Discovery Park will build on the strong economic potential of the former Pfizer site by attracting innovative pharmaceutical, cleantech and research, and development businesses to East Kent. It will also make the best use of the highly skilled and specialist workforce already in the area.
Leader of Kent County Council Paul Carter said: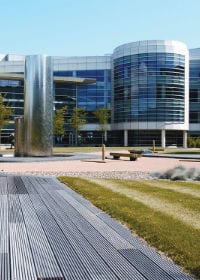 "This is an excellent step forward for the Sandwich site and will really enhance the attractiveness of the area for future investment by private business.
"Not only will this help to create a strong science business hub in the UK, it will stimulate and encourage inward investment and business start-ups following the announcement of Pfizer's withdrawal from the site."
"When you also take account of the exciting improvements we have made to local infrastructure by funding Southeastern for High Speed 1 to begin operating from Sandwich and Deal, this really makes a strong package for revitalised business and employment growth in the East Kent economy."
Harlow Enterprise Zone
As part of the Enterprise West Essex @ Harlow scheme two areas of the town will be joined to create a 126-acre site to support the growth of high-tech and medical technology companies. Harlow Council
estimates the new MedTech Campus could account for one in ten jobs in Harlow.
South East Local Enterprise Partnership (SELEP) Interim Chair George Kieffer said:
"This is excellent news for Sandwich, Harlow, and for the whole country.
"The SELEP area is the powerhouse of the country's economy, so it is vital that it remains vibrant and prosperous and we are delighted the Government has recognised this. As well as the thousands of jobs these zones will generate, they will also show that the SELEP area is the place where businesses can develop and thrive."
"We are a vital gateway for the UK and to Europe and these innovative projects will help cement our importance to the rest of the country."
Delivering new jobs
Leader of Harlow Council Andrew Johnson said: "This Government backing is a great boost for Harlow during these difficult times and shows Harlow is most definitely open for business.
"Harlow already has a great name in technology and is superbly placed between London and Cambridge, with all the road, rail and air links any company could want.
We want to attract and retain businesses in Harlow and support them in their growth while providing jobs for local people that match their aspiration. The Enterprise Zone status gives us that opportunity."
South East Local Enterprise Partnership
The South East Local Enterprise Partnership is a partnership involving leaders from business, local government, and further and higher education, and is working towards creating the most enterprising economy in England. The partnership covers East Sussex, Essex, Kent, Medway, Southend, and Thurrock.
It is the country's largest strategic Local Enterprise Partnership outside of London and represents a combined population of 3.9 million people. It is home to more than 130,000 businesses, which provide more than 1.3 million jobs, and is a critical port and gateway area in a strategic location between London, Europe and the global economy.