Digital Skills Partnership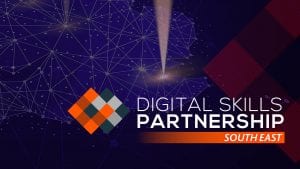 The government is working with Local Enterprise Partnerships (LEPs) and Combined Authorities (CAs) to help establish Local Digital Skills Partnerships (Local DSPs) across the country to tackle local digital skills challenges and build thriving and inclusive local economies.
In 2018, three Local DSPs were set up in Lancashire, Heart of the South West and the West Midlands. The Department for Digital, Culture, Media & Sport (DCMS) invited all other LEPs and Mayoral CAs to submit Expressions of Interest to form a Local DSP pilot. A further three regions were selected, including the South East (Read more here).
Trailblazers
The six Local Digital Skills Partnership trailblazers were allocated funding to employ a Regional Coordinator to coordinate the delivery of digital skills in their respective Local DSPs.
In July 2019, the South East LEP appointed James Wilkinson to coordinate its Digital Skills Partnership. James works collaboratively with both regional and national stakeholders to develop innovative models to improve digital skills across their regions, boost their local economies and share this best practice with other LEPs and CAs.
SE DSP Members have agreed our five priorities for action in the region: Support to SME's to ensure staff and leaders are responsive to developing technologies, Support to Educators and Students to ensure they have the confidence to teach digital subjects and modules or leave with the skills required in the increasingly digital workplace, Support to residents to prevent further digital (and social) exclusion, ensuring alignment between education and industry need and the development of a South East Digital Skills Prospectus.
We'll be regularly updating stakeholders across Kent, Essex and East Sussex about progress, sharing information about offers from regional and national DSP partners to help improve residents' digital skills and inviting support from partners and individuals.
Stay informed

Click here to read our news stories about the SELEP Digital Skills Partnership​
Click here to view the DSP blog and stay up to date with DSPs across the UK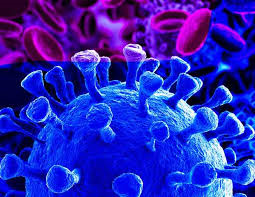 Our COVID-19 Response
The SE Digital Skills Partnership continues to compile and update information about guidance and support open to residents across the region, and ways in which businesses and individuals can offer support themselves. Thanks for alighting here – scroll down for the following:
This week's headlines
Our growing list of resources for Business, Educators/Students and Residents (including furloughed staff and those looking for work)
Our April update from the South East Digital Skills Partnership
All the best from us all at the SE DSP and hope readers are keeping safe and well
This week's headlines (W/c 4th May)...
Launch of new Cyber Security Skills Programmes
Friday 1st May saw the launch of the new Department for Culture, Media and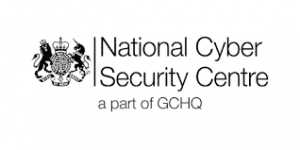 Sport, National Cyber Security Centre and National Crime Agency cyber security skills programmes for young people. Young people are invited to join a virtual cyber security school, and learn how to crack codes, fix security flaws and dissect criminals' digital trails while progressing through the game as a cyber agent. Students will also benefit from weekly webinars delivered by industry experts teaching fundamental security disciplines such as digital forensics, cryptography and operating systems.
Build up your skills now with the new Skills Toolkit
This week the Department for Education launched The Skills Toolkit, a new online platform to help individuals build up their skills in digital and numeracy to get ahead in work. Take a look at what's on offer here.
Support the Devicesdotnow Campaign targeting our most vulnerable residents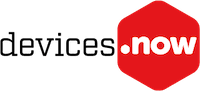 Supported by the Department for Digital, Culture, Media and Sport, FutureDotNow are coordinating industry action through a new initiative, DevicesDotNow, targeting the 1.9 million households who don't have access to the internet and are digitally excluded as we face a socially distanced world gripped by COVID-19.
To donate to the campaign, whether in the form of hardware and connectivity or financially, head to their website for more information. The South East Digital Skills Partnership are currently talking to Devicesdotnow colleagues about making sure that equipment and connectivity gets to our local residents
Calling all budding Games Designers!
SideQuest is a new initiative to get 13-19-year-olds to learn a range of key practical and workplace skills during lockdown through designing and building videogames. 
The scheme is set up by the youth games career service, Into Games and the national trade body, UKIE. Participants will be able to take part remotely, with free software, curriculum mapped worksheets, online tutorials and a community of fellow game builders on the social platforms Twitch and Discord. 
Those that take part will have to build a game from scratch in 7 days to a theme set by a well known UK games studio, during the week, industry professionals will stream masterclasses, tips and careers advice, offering a creative way to develop students understanding about careers in the sector, satisfying a number of Gatsby benchmarks.  
If you would like your students to take part, please go to sidequest.org.uk or email sidequest@intogames.org for more details. ​
Our evolving list of information and resources for Businesses, Educators/Students and Community/Jobseekers/Furloughed Staff
We've contacted all members of the extended Digital Skills Partnership network in the South East, asking them to send us details of ways in which they're helping education, businesses and residents to respond to the current situation. If you haven't been contacted but would like to send details of your organisations' offer, send info to james.wilkinson@southeastlep.com. We'll continue to update the list throughout the lockdown period.
Take a look at these attachments, for information for businesses and staff, educators and students and residents (including those looking for work):
Businesses, Charities, Staff and Leaders
Info for Businesses, Charities, Staff and Leaders
Students/Educators/Young People and Parents
Info for Teachers, Students and Parents
Community/Furloughed Staff
Info for Residents, including Furloughed Staff and Jobseekers
We'll continue to update the website and share information with partners over the coming days. If you'd like to be added to the SE DSP distribution list, email james.wilkinson@southeastlep.com. 
April 2020 Update from the SE DSP
In these truly strange and disconcerting times, we've all had to learn some hard and fast lessons about the importance of digital skills and the confidence to put them into practice. Whether it's about running a business or working from home, teaching and learning, or accessing services online, people across the South East are doing amazing things they hadn't necessarily thought they could do until now but, at the same time, too many are being increasingly left behind, due to a lack of hardware and connectivity or the face-to-face support they need. The world will undoubtedly change for many of us as we move out of this crisis, in terms of the way we work and, unfortunately for far too many, the jobs we'll actually be doing but right now, the Digital Skills Partnership in the South East gives the following update about recent progress.
We've been looking at ways in which we can support local SME's now and as the crisis recedes, talking to various organisations about the possibility of establishing a programme to help small businesses understand their digital 'health' and tackle their digital gaps, with one-to-one support to help implement changes. We'll share more news as conversations develop.
We've also been looking at how we can help address the fact that far too many residents don't have the hardware and connectivity right now and are therefore facing greater isolation and exclusion. DSP members are considering support to Devicesdotnow and other organisations providing this kind of help to vulnerable residents and expect to make a decision shortly.
We're also looking at how the Partnership can help residents with disabilities (including mental health) into digital-related jobs once the crisis is over. We hope to share news in the near future on this important initiative.
The Steering Group met back in February, this time at Pfizer UK on Discovery Park in Sandwich, Kent. Partners agreed to divide into smaller working groups, each focusing on one of the DSP's priorities. Working Groups will be responsible for driving activity against the action plan and reporting back to the main steering group. We're delighted to have had volunteers to join each group, and to lead them too. We'll confirm next steps once the current situation begins to settle down.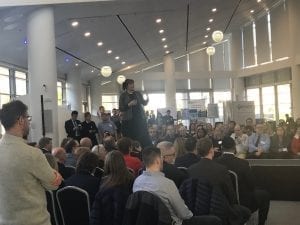 Before the country was put into lockdown, we'd seen a number of Google Digital Garage events happening across the region, including events at Thurrock Adult Community College, Colchester Institute and East Sussex College, in Medway and on the Isle of Sheppey, as well as sessions delivered at the BEST Growth Hub event at Hylands Park in February.
We'd connected Microsoft to HM Prisons and Probation in the South East, and they're now working together to consider a tech upgrade in the ten prisons across our region, as well as delivering digital skills sessions for inmates. And we'd linked East Sussex College to NHS Clinical Commissioning Groups locally to devise digital skills interventions for NHS staff and residents, and lots more besides. We'll give a more substantial update in a few weeks time, once the world settles down a little(!), so in the meantime we wish all organisations and individuals the best over the next few weeks. Take care and stay safe!
If you'd like to get in touch, to find out more or to register your support for the local Digital Skills Partnership, drop us an email at james.wilkinson@southeastlep.com