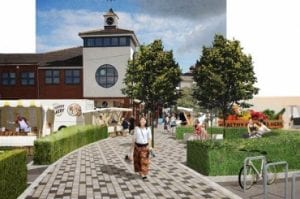 Medway Council has secured £9 million Local Growth Fund from the South East Local Enterprise Partnership (SELEP) to carry out improvement works to Strood town centre.
This initial phase of improvements will transform the existing car park and market at Commercial Road, creating a new and improved market site. The pedestrian route through the car park will be realigned with Tolgate Lane and new seating and lighting will be installed.
Improvements to boost the local economy
Further phases of the works which will be carried out later on in the year, include improvements to pedestrian routes and cycling facilities, as well as changes to the road layout in the town centre to reduce congestion and improve journey times.
The transformation project, which will include the redevelopment of the railway station, aims to boost economic growth, provide new jobs in the town and create a town where people are proud to live, work and visit.
Welcomed by Medway
Medway Council's Portfolio Holder for Strategic Regeneration, Cllr Rodney Chambers, said: "It is fantastic that work is under way. Strood is one of Medway's key regeneration sites and the improvement works aim to make the area a place where residents are proud to live and work."
Cllr Jane Chitty, Medway Council's Portfolio Holder for Economic Growth, said: "We have listened to feedback from traders, residents and businesses and plans are in place to improve the market. It will be very exciting to see the improvement works take place over the coming months."
Wider investment in Medway
The Project forms part of a wider programme of investment across Medway, with £40.2m Local Growth Fund from SELEP having been allocated to the delivery of infrastructure projects across Medway to 2020/21.
Welcomed by SELEP
SELEP champions the economy and business community of Kent and Medway, as well as Essex, East Sussex, Southend and Thurrock.
Christian Brodie, Chairman of SELEP, said: "Our town centres play an important role in the health of the area's economy.
Improving the visitor experience will generate loyalty and help boost businesses in the town centre, many of whom are small independent retailers and having to compete in our internet-led world."
Growth Deal

A large focus for the South East LEP activities is the delivery of the Growth Deal, a £12 billion national long-term programme to revitalise local economies with a yearly funding pot of least £2bn a year for the period 2015/16 to 2020/21.
Allocations were awarded on a competitive basis and SELEP successfully secured £590.8m. Of that total investment we have already spent £150m on projects in the South East to improve our localities, enable the delivery of new homes, employment opportunities and to act as stimulants for further private sector investment.
This project is one of 97 in our Local Growth Fund capital programme.