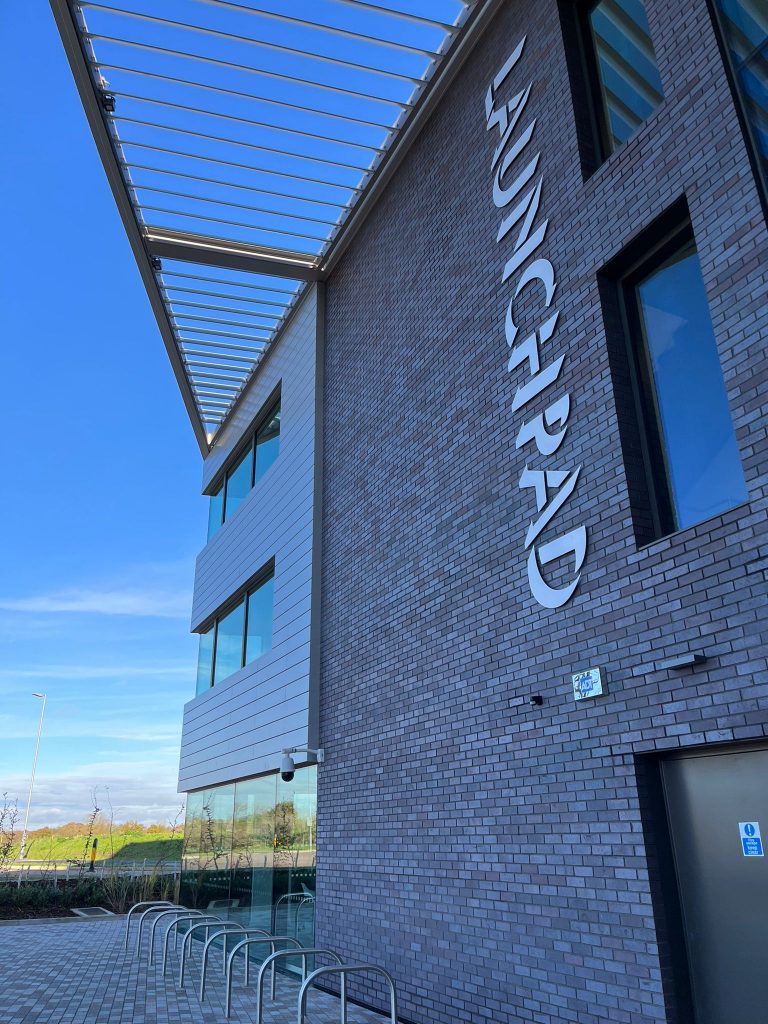 Southend on Sea City council is delighted to announce that Oxford Innovation Space is now set to operate The Launchpad at Airport Business Park Southend, providing high quality work-spaces and business support for small and medium enterprises (SME) in Southend-on-Sea, Rochford and the surrounding area.
With over 30 years at the forefront of providing support to start-ups, Oxford Innovation Space successfully manages innovation centres throughout the UK and Ireland, providing expert support and knowledge to drive business growth and regional success.
Commissioned by Southend on Sea City Council, The Launchpad is a three-storey business hub designed to highest level of sustainability to support the council's climate change agenda, achieving an 'Outstanding' grade of BREEAM environmental standard. The building attracted South East Local Enterprise Partnership (SELEP) Local Growth Fund and Nature Smart Cities funding through the European Union.
Based on Airport Business Park Southend, which is to the north-west of London Southend Airport, off Cherry Orchard Way, it brings more than 2,300m2 of office and workshop space which will encourage collaborative and creative business activity, attracting start-ups, small to medium-sized enterprise companies and business park occupiers from the region. The building provides a range of business-critical facilities including a workplace nucleus, individual office spaces, conference and meeting suites, research facilities, a café and eatery and external seating and collaboration areas.
With the building now almost complete, the council has been working with organisations interested in setting up at The Launchpad to fill the building with innovative businesses and organisations which fit the criteria set out in the original plans. Oxford Innovation Space will be responsible for managing the operations of The Launchpad, helping to attract further businesses to the centre and building an environment where aspiring entrepreneurs and start-up businesses can grow and thrive and have the opportunity to co-locate, share ideas and network.
Cllr Paul Collins, cabinet member for asset management and inward investment, said:
"I am thrilled to announce that Oxford Innovation Space will be managing the Launchpad at the Airport Business Park.

"We want to see small and medium enterprises thrive in Southend-on-Sea, and Oxford Innovation Space will play a huge role in helping us achieve that goal, bringing their vast experience and contacts to take the centre forward. This is just the start of what is set to be an incredibly important workspace in our City."
Jo Stevens, Managing Director, Oxford Innovation Space said:
"We're incredibly excited to be managing this new centre for young, ambitious and innovative companies and to be championing innovation in the area.  We pride ourselves on our ability to provide bespoke support for all businesses within our centres. It's much more than a workspace, we build innovative communities, that with the expert support from our business growth team, are encouraged to grow and thrive." 

She added: "We look forward to helping Southend become the home for innovative new businesses, supporting the economic recovery of the city and the wider region."
James Baker, lead architect and Principal at BDP, added:
"Launchpad is a highly flexible, sustainable incubator building which is designed to foster collaboration between innovative businesses. As a business hub, it ensures a true platform for creating growth in the region in a building that aligns with the latest sustainable thinking and design. It is an exemplar workplace project, not just for Essex but for the UK, and we are incredibly proud of what has been achieved. We are sure that Oxford Innovation and all the future tenants will be delighted with their new home."
Chris Brodie, Chair of the South East Local Enterprise Partnership, said:
"We are delighted to see such an important project for Southend and the airport come to fruition. Creating purpose-built space for businesses such as the Launchpad is exactly the kind of endeavour intended for the Local Growth Fund. This project serves to highlight the significance of Southend Airport as an asset for the local economy, supporting local supply chains and providing our communities with new job opportunities.

"This is a strategically important location for Essex and the South East as a whole, offering international connectivity to markets and presenting a huge opportunity for growth for the area. SELEP contributed more than £23m to this project, and we are excited to see the future growth of both the business park and the start-ups and SMEs that will base their operations at the Launchpad."
Property developer HBD is delivering Airport Business Park Southend alongside the Council. Director Harry Bunbury said:
"It's fantastic to see The Launchpad approaching completion – designed to BREEAM Outstanding, it is a highly sustainable building that will provide the space and ecosystem SMEs need to grow. We look forward to welcoming Oxford Innovation and the building's new occupiers to Airport Business Park Southend in the near future."