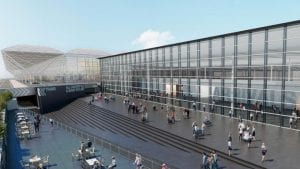 The South East Local Enterprise Partnership has welcomed the granting of planning consent for a new arrivals building at Stansted Airport.
Approved plans
Uttlesford District Council (UDC) has approved plans submitted by the airport's owners Manchester Airports Group (MAG) for the three-storey hall on an 1.8-hectare site to the east of the existing terminal building, and to the west of the Radisson Hotel.
It will include a larger immigration and baggage reclaim area, new shops and a public forecourt.
Planning officers at UDC said the planned building would improve customer service standards, make best use of existing airport capacity, bring wider economic benefits and improve the local amenity value of the airport.
"Stansted Airport is a key international entry point to the SELEP area and as such is a vital ingredient in the economic strength of Essex and the wider region," said SELEP Chairman Christian Brodie.

"This was recognised earlier this year in the latest round of Regional Growth Funding when £3.5m of Government investment was allocated to the creation of a new Technical and Professional Skills Centre at the airport.

"The addition of a modern new arrivals building will ensure the airport is ready to meet future growth and continue its important contribution to the success of the region."
The new building is expected to take up to three years to complete once work begins late next year.