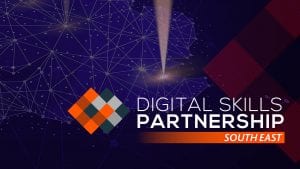 The first Steering Group meeting for the South East Local Enterprise Partnership's (SELEP) Digital Skills Partnership – one of only six areas identified by the Department for Digital, Culture, Media and Sport (DCMS) to deliver a local DSP programme – has been celebrated as a resounding success.
Poulomi Solanki, Policy Adviser for Digital Skills and Inclusion at DCMS opened the event – which took place at STEM Learning in London on the 18th October – with a talk on the Government's perspective on Digital Skills, before SELEP Skills Lead Louise Aitken gave attendees an overview of SELEP, including challenges around digital skills levels in Kent, Essex and East Sussex.
SELEP's DSP Coordinator James Wilkinson provided attendees with national and regional data around digital skills gaps and led the resulting discussion with Steering Group members to identify and set out the key priorities for the Local Digital Skills Partnership (LDSP) and how the work of the partnership will be promoted across the region. Partners at the table included the likes of Google and Huawei, representatives of FE Colleges and Universities across the SELEP region, large and small businesses, the voluntary sector and organisations such as The Prince's Trust and National Careers Service.
With the help of joint chairs Alison Parmar, Development Manager at the Federation of Small Businesses (FSB), and Melissa Hanna-Brown, Technology and Innovation Lead at Pfizer, the Steering Group set out a list of five priorities for the LDSP, including basic digital skills for those at risk of or already facing digital exclusion and ensuring alignment of education offer and industry need.
The LDSP's priorities will also include providing support to schools to ensure students leave with the digital skills they require for the world of work; support to small businesses to ensure staff are responsive to developing need; and establishing a single, clear prospectus of digital skills support available across SELEP. The Steering Group will now produce an action plan that sets out in more detail how partners will work together to tackle these challenges over the next two years.
"It was great to take part in the first SELEP Digital Skills Partnerships meeting," said Alison Parmar. "It's clear there is a lot of drive and enthusiasm across the South East for sharing and improving digital skills for everyone – from business owners, to young people and returners to work. There is already some excellent activity going on. Now, I look forward to supporting this partnership and collectively building on our digital strength."