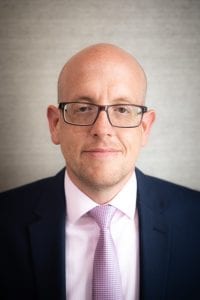 The South East Local Enterprise Partnership (SELEP) has appointed James Wilkinson to coordinate its new Digital Skills Partnership (DSP).
SELEP is one of three pilot areas for the Department for Digital, Culture, Media and Sport's (DCMS) Local DSP programme, which brings together businesses with education, public sector organisations and the charitable sector with the aim of creating a world leading digital economy that ensures the need for these vital skills is met across the South East.  
James will coordinate the DSP, acting as a link between the project and corporate partners including Google, IBM, Microsoft and local digital SMEs to help support residents and businesses across the area. 
He comes from Essex County Council where his role included supporting young people to help them into work and to gain qualifications as part of the Essex Apprenticeship Programme, and managing the Education and Industry STEM Programme.
James said: "I've worked with partners from across education, industry and the voluntary sector to devise, identify and promote opportunities in key sectors for young people. Moving on to build skills in the high-value and vital digital sector is a natural progression for me.
"I am excited to be working with the South East Local Enterprise Partnership to help drive digital skills across the region, alongside the fantastic organisations already doing great things in Kent, Essex and East Sussex."
Welcoming James's appointment, Christian Brodie, Chair of SELEP, said: "James and the DSP have a vital role to play in the delivery of digital skills across the SELEP area.
"Our skills strategy has identified a growing need for these skills, with business growth being held back, vacancy numbers remaining high and many companies struggling to recruit and retain digitally-focused staff.
"In the last calendar year it was reported that there were more than 35,000 digital vacancies, including web and software developers, programmers and coders across the SELEP area which covers Kent, Essex, East Sussex, Medway, Southend and Thurrock.  
"So there is plenty of work that needs to be done, but we are confident that James will drive the DSP to meet that considerable challenge."
The South East DSP will feed into SELEP's Local Industrial Strategy and its objectives are integral to its recently published Economic Strategy Statement: Smarter, Faster, Together.