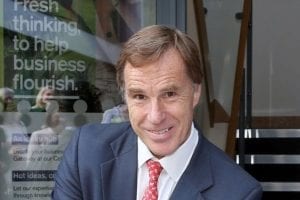 The Chairman of the South East Local Enterprise Partnership Christian Brodie is to extend his term of office for a further two years.
The move was agreed by SELEP's Strategic Board at its March meeting and will see Christian continue to lead the organisation that champions investment and economic development in East Sussex, Essex, Kent, Medway, Southend and Thurrock.
Securing investment
During his two years in post to date, SELEP has secured £102.65m from the Government which has funded 19 projects delivering new jobs, homes and infrastructure. He also successfully led the business-led organisation in lobbying government to commit to the Lower Thames Crossing.
Talking about the challenges facing the south east in the coming years, Christian said: "As the country prepares to leave the EU, everything possible must be done to support the business community and our economy.

"We need to ensure our ports and transport links continue to serve the rest of the UK and international markets. Efficiently investing in road connections to the ports, such as the A2, must be a national priority.

"Businesses tell us that recruiting and retaining high-calibre staff is a challenge and more must be done to help our colleagues in higher and further education to connect with business and vice versa.

"A priority for SELEP is to ensure our area continues to deliver for the UK. We are committed to working with local businesses and our partners to persuade Government to continue to invest in our infrastructure, skills and to stimulate economic growth."
About Christian Brodie
Christian is Chair of the Student Loans Company and the Chair of the Council of the University of Sussex.
After reading law at Oxford, he took on legal roles in corporate finance in London and Wall Street. His firm was taken over by UBS, where his career progressed to Vice Chairman of the investment bank, reporting to the Chief Executive.
As well as holding directorships in a number of private companies, and serves on the Grants Committee of the Wates Foundation, a charity supporting projects principally in London and the South East.
SELEP vice chairs
The three vice chairs representing SELEP – Graham Peters, (East Sussex), George Kieffer (Essex) and Geoff Miles (Kent) – will continue their roles supporting Christian in promoting the SELEP area and working closely with and negotiating with the Government, private sector and other stakeholders to ensure the area benefits from any new initiatives and funding opportunities