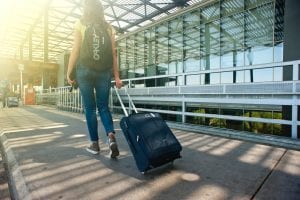 News that London Stansted Airport's catchment area is responsible for more than half of all UK demand for long haul flights, thus strengthening the case for the airport's growth, has been welcomed by the South East Local Enterprise Partnership (SELEP).
New research from London Stansted Airport and travel fare website Skyscanner reveals over 50% of all UK searches for flights to top long-haul locations, including Beijing, Hong Kong, New York and Tokyo originated from within the airport's catchment area.
Gateway to Growth
The report was presented to the aviation industry by a team from London Stansted at the leading World Routes Conference in Adelaide, Australia. Entitled 'Gateway to Growth', it outlines destinations that the airport is targeting for long-haul growth in the coming years. 
Christian Brodie, chairman of SELEP, said: "Stansted Airport is a key international entry point to our area and as such is a vital ingredient in the economic strength of Essex and the wider region.

"International connectivity, and continued growth in the area, can only happen if spare runway capacities are unlocked and route networks developed. These findings from Stansted and Skyscanner further strengthen the case for the airport's expansion and growth." 
SELEP has supported the £11million investment in the development of the Stansted Airport Technical College, which is now open and providing local young people with courses in aircraft and airport engineering, business studies, hospitality and customer service. This is now delivering the skills the local airport-related businesses need and boosting the area's productivity.
Demand for long-haul travel
Analysis of passenger data also reveals demand is particularly strong for business and first-class travellers within the region who want to access top long-haul destinations.  According to the statistics, more than half (56%) of all UK searches for business and first-class flights to long haul locations originated from within the London Stansted catchment area. An impressive 61.2% of all UK searches for Business and First-class flight tickets to New York originated from the London Stansted catchment area, with Mumbai (59.6%) and Tokyo (58.5%) following closely behind. 
The number of business travellers residing in the London Stansted catchment, using other UK airports to access key destinations is similarly striking. Close to half a million business travellers (491,215) flying to New York from UK airports are based in the London Stansted catchment area, according to Civil Aviation Authority data, while a sizeable volume of annual business travel demand for major global destinations including Boston (99,941), Hong Kong (94,559) and Washington (94,556) comes from the London Stansted catchment area.
Until Stansted begins to service these popular destinations, passengers in the region are having to spend time and money on travelling to airports further away, while the region itself does not enjoy the significant economic and social benefits which come from strong long-haul connections.
The full Gateway to Growth report can be downloaded here