Queensway Gateway Road

Queensway Gateway Road forms a key infrastructure investment in the Hastings – Bexhill Growth Corridor. It comprises a single carriageway road link between the A21 Sedlescombe Road North and Queensway. The road will connect with Queensway running south of its junction with the Ridge West, crossing the Hollington Stream valley on an embankment and then running south of Whitworth Road to join the A21 at a new junction north of the existing Sainsbury's store. It includes signal controlled junctions at either end and a roundabout junction with Whitworth Road facilitating access to employment sites to the north and south.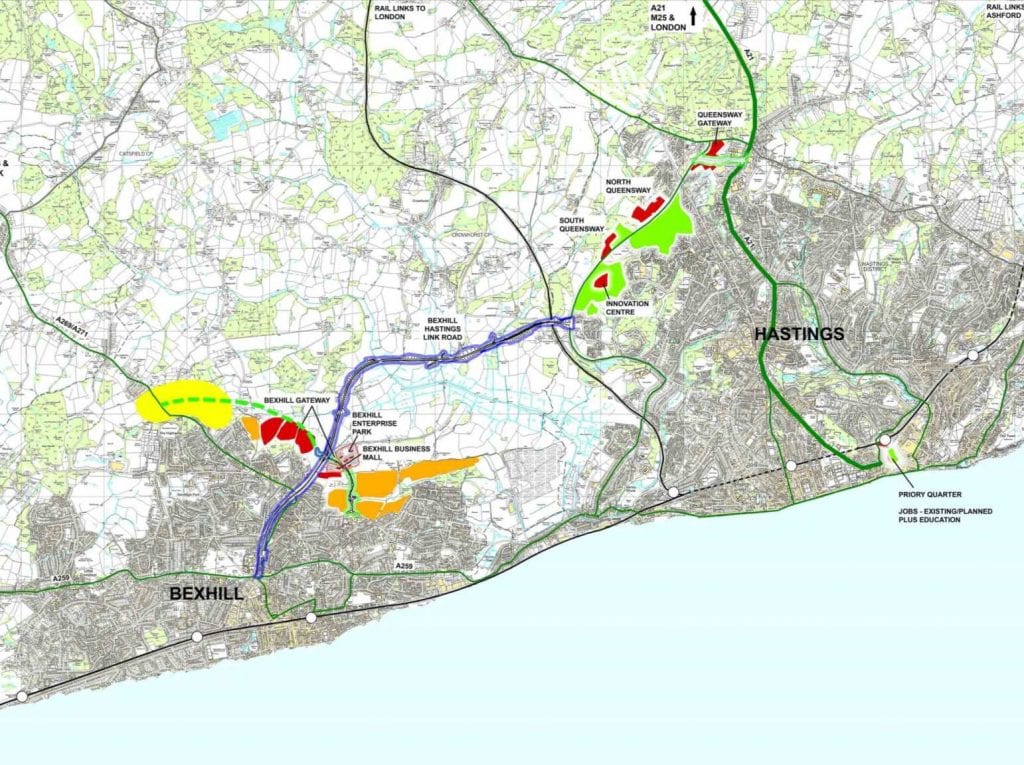 Strategic road
The road serves a strategic purpose in linking Bexhill in the west and the A21 to the east of the Growth Corridor by relieving congestion on The Ridge and improving traffic flows onto the A21. Critically, Queensway Gateway Road connects the Bexhill Hastings Link Road (BHLR) to the A21, redistributing traffic from the BHLR and The Ridge heading towards the A21.
The opening of the BHLR will change the balance of traffic movements in the Hastings/Bexhill area, increasing traffic volumes along The Ridge and Queensway. The link between The Ridge and the A21 already displays signs of capacity problems. By relieving congestion, the Queensway Gateway Road will improve strategic connectivity in the Growth Corridor, improving employment development potential in Queensway and employment and housing growth potential in North Bexhill.
Importantly, the Queensway Gateway Road provides access to designated employment development sites within the Bexhill Hastings Growth Corridor which would otherwise not be brought forward. The new road allows land to be released around the road for employment development as set out in Policy E1 of the present Hastings Local Plan 2004 and policies LRA 7 and 8 of the Hastings Planning Strategy. Specifically, the road opens up the development potential of key sites south of The Ridge, with capacity for up to 12,000sqm of employment floorspace.
Funding value: £6m
Total Project cost: £6m
Business Case:
Download
Return to Capital Investment