Eastbourne town centre LSTF access & improvement package

This phase of the Eastbourne Town Centre Movement and Access Package is specifically focussed on the key town centre corridor of Terminus Road and Cornfield Road.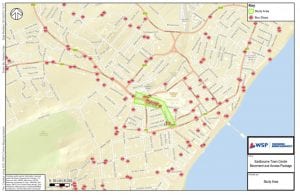 They provides a main route for traffic through Eastbourne town centre, with access to all traffic on the section of Terminius Road adjacent to the rail station, with the remaining part of the corridor accessible to buses only. This section also includes a number of bus stops and retail frontages, and will complement the Arndale Centre extension by supporting the towns move to providing a stronger image and identity as a major retail centre.
This corridor's key function is as a retail hub for Eastbourne and for nearby settlements within South Wealden. It also provides connectivity to the seafront and other key destinations in the town centre. The provision for transport interchange is also a key element of this corridor, but it is currently constrained by the existing street layout.
Funding value: £6m
Total Project cost: £6.25m
Business Case:
Download
Return to Capital Investment