A133 Colchester to Clacton

The A133 is the key route providing access from Colchester to the seaside resort of Clacton–on–Sea and allowing access from the district of Tendring into Colchester.
The purpose of this project to deliver a package of schemes to provide highways capacity, cycling and safety improvements for the Colchester to Clacton corridor.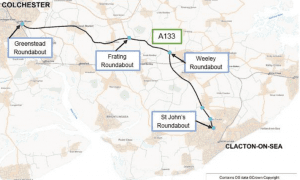 National Planning Guidance states that plans should maximize opportunities to accommodate the efficient delivery of goods and supplies, give priority to pedestrian and cycle movements wherever possible and minimise conflicts between traffic and cyclists or pedestrians. This route based strategy aims to do just that.
The following improvements were identified from a Route Based Strategy (RBS) study:
Bromley Road Improvements – Widen to two lane approach from Colchester, introduce new Puffin crossing and modify junction layout
Safety Improvements – Implement variety of safety improvements between Frating roundabout and Progress Way, Little Clacton including actions to reduce potential collisions
Frating Roundabout – Introduce left-turn slip from A133 (A120 Spur) to A133 E and modify roundabout and approached to accommodate this slip
Frating Roundabout – Introduce left-turn slip from A133 E to A133 W
Weeley Roundabout – Junction and signage improvements
Signage – Various improvements along the route
Cycling – Improve cycle paths along the A133 (Salary Brook). In particular, the section from Greenstead Roundabout, up Clingoe Hill that provides links and access to the University of Essex and the B1441 which runs alongside the A133 from Weeley to Progress Way, Little Clacton
Funding value: £2.74m
Total Project cost: £5.48m
Business Case:
Download
Return to Capital Investment