A13 Widening

The A13 corridor in Thurrock links the nationally significant port infrastructure of Tilbury and London Gateway with the M25 and London. The South East Local Enterprise Partnership (SE LEP), in their Growth Deal and Strategic Economic Plan 2014, identified the A13 corridor as the largest single growth opportunity in the SELEP area. However, the Plan also identified that development is constrained by the limited capacity of the strategic road network, particularly J30/31 of the M25 and the dual carriageway section of the A13.
The South East Growth Deal includes a provisional allocation for widening the A13 in Thurrock. This includes funding of £5m capital grant from the Local Growth Fund for the development costs of the A13 Widening project, and up to £75m of further funding for construction.
The Strategic Economic Plan identified that the A13 Widening and other planned transport investments will directly enable the creation of 4,045 jobs and 3,340 new homes by 2021, and facilitate 43,610 jobs and 11,000 homes in the corridor.
Scheme Description
The existing carriageway has 2 lanes in each direction. The widening will tie in with the existing 3-lane section of the A13 west of the interchange with the A128 and will complete a 3-lane carriageway from the M25 to the A1014 interchange. Both the A128 and A1014 interchanges are already grade-separated, but the junction with the A128 will need to be re-constructed in order to provide adequate width for the widened A13 carriageway beneath the interchange.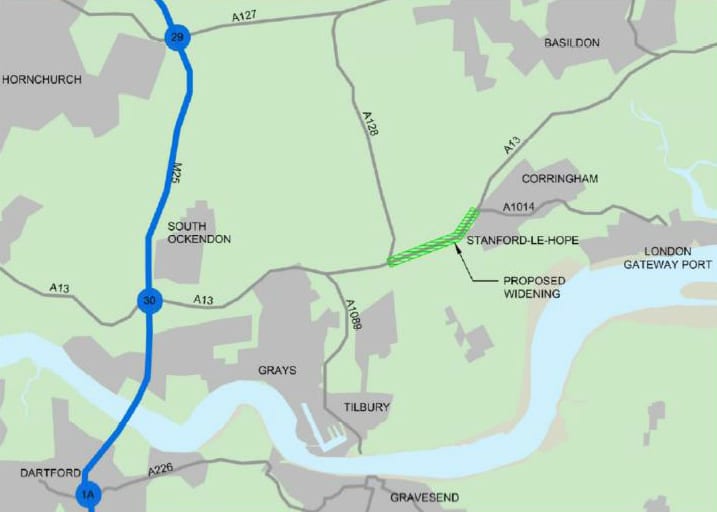 Funding value: £66.057m
Total Project cost: £73.866m
Business Case:
Download
Return to Capital Investment