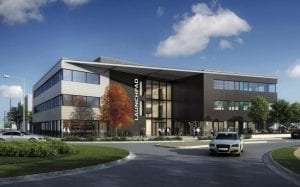 Plans to build the first dedicated innovation facility for small businesses and start-ups in the area have been granted planning approval by Rochford District Council.
The Launchpad is a project led by Southend-on-Sea Borough Council and funded by the South East Local Enterprise Partnership (SELEP) Local Growth Fund. It will champion real innovation in the area for start-ups and small and medium enterprises (SMEs) and be based on Airport Business Park Southend, which is being developed on land to the north west of London Southend Airport off of Cherry Orchard Way.
The Launchpad will be three storeys in height, with a mix of offices, workshops, research facilities and break out spaces, along with a café and seminar space. The council has worked with BDP architects to design the scheme, and will go through a procurement process in 2020 to seek an operator for the facility.
Essex firm Readie Construction is delivering the remaining infrastructure and the first commercial build on the site for local business Ipeco. Bespoke property requirements can now be delivered within 12-18 months by Henry Boot Developments. Enquiries should be made via their agents, Kemsley and Dedman Gray.
In wider developments at the development site, Westcliff Rugby Club is scheduled to move in to their new facility in December which will enable the Airport Business Park road to be completed.
Rochford District Council's strategic director, Angela Hutchings said:
"This £150m Airport Business Park in Rochford district is a fantastic opportunity for businesses who are now being offered the chance to locate at a site which offers excellent transport links and local amenities.

"This joint project will boost and enhance the economy for both Rochford district and Southend borough through delivering local job opportunities and space for start-up and business incubation units."
Emma Cooney, Southend-on-Sea Borough Council director of regeneration and growth, said:
"Airport Business Park Southend is vital to driving opportunity, prosperity and economic growth of both Southend-on-Sea and the wider region. It will create more local employment, and provide opportunities for entrepreneurs, local business to expand and new ones to invest.

"Its importance to the local area should not be underestimated, with £150m being invested in delivering high-quality space and infrastructure across the business park, building a collaborative ecosystem that acts as a catalyst for growth.

"The Launchpad is just one part of the jigsaw, but as the applicant, the council is delighted to see The Launchpad approved by Rochford District Council – this new facility will champion innovation and be a hub of activity at this exciting new development."