Lower Thames Crossing
Highways England's motorways and A-roads are the backbone of the country and key to driving a successful economy. Its ambition is for a modern and reliable network that improves economic growth, reduces delays, creates jobs, helps business and opens up new areas for development.
One of our ambitions is to make sure all our major roads are more dependable, durable and, most importantly, safe.
Crossing the Thames
Everyone knows that driving across the Thames east of London is frustrating. For many road users, including motorcyclists, the Dartford Crossing is the only viable way to cross the river. It is also a vital freight route connecting ports in the South East.
As a consequence, it is the busiest river crossing in the country and is heavily congested, carrying more traffic than it was ever designed for. This puts huge pressure on roads and motorways on both sides of the river.
---
A new crossing
Whether you're travelling just a short distance across the Thames to visit family and friends, looking for better access to jobs or business opportunities in the South East, or reaching new markets across the UK and Europe, the Lower Thames Crossing will provide new connections and better journeys.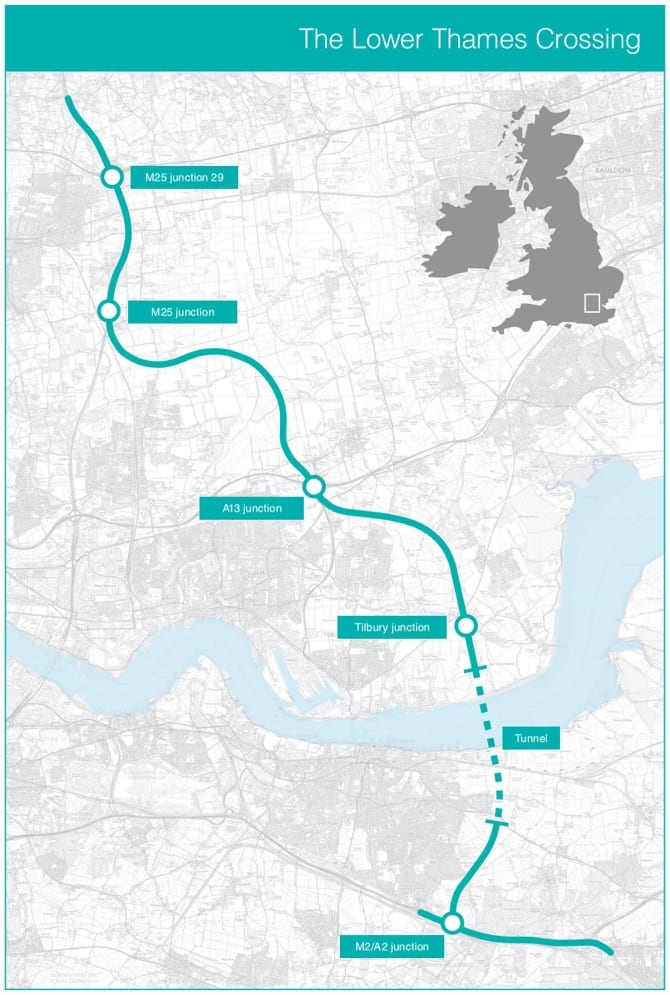 The Lower Thames Crossing is a proposed new motorway connecting Kent, Thurrock and Essex through a tunnel beneath the River Thames. It will provide much needed new road capacity across the river east of London.
On the south side of the Thames, the new road will link the tunnel to the A2 and M2 in Kent. On the north side, it will link to the A13 and junction 29 of the M25 in the London Borough of Havering. The crossing and the new connecting road network will provide quicker and more reliable journeys locally, regionally and nationally.
This is the most ambitious project of its kind in the country. It is the largest single road investment project in the UK since the M25 was completed more than 30 years ago. The crossing under the Thames will be the longest road tunnel in the country. At 16 metres in diameter, it will be one of the largest bored tunnels in the world.
The Lower Thames Crossing will have:
approximately 14.5 miles (23km) of new roads connecting the tunnel to the existing road network
three lanes in both directions with a maximum speed limit of 70mph
improvements to the M25, A2 and A13, where the Lower Thames Crossing connects to these roads
new structures and changes to existing ones (including bridges, buildings, tunnel entrances, viaducts and utilities such as electricity pylons) along the length of the new road
two 2.5 mile (4km) tunnels, one for southbound traffic, one for northbound traffic crossing beneath the river
a free-flow charging system, where drivers do not need to stop but pay remotely, similar to that at the Dartford Crossing