The South East Local Enterprise Partnership has issued an open call for project proposals which will unlock economic growth and help 'kick start' development at stalled sites.
Background
Show
The Growing Places Fund was established by the Ministry for Housing, Communities and Local Government (formerly the Department for Communities and Local Government) and the Department for Transport in 2011 to unlock economic growth, create jobs and build houses and help 'kick start' development at stalled sites. The fund works as a recycled capital loan scheme regenerating funds based on the repayment schedules agreed for existing Growing Places Fund projects.
A total of £49.2m Growing Places Fund capital funding was made available to SELEP for spend as a capital loan. The recyclable nature of the pot has enabled a total of £54.4m to be invested across 21 projects to date. Information about the types of project that have been supported to date can be found here.
A number of repayments were made during 2018/19 and further repayments are expected during 2019/20. This provides the opportunity for the reinvestment of this funding in new projects.
Amount of funding available
Show
Subject to future expected repayments being made in 2019/20 and 2020/21, the total amount of Growing Places Fund currently available for reinvestment is £20.724m, of which £15.595m will be available in 2020/21 and a further £5.129m in 2021/22.
An open call of projects has now been issued for projects to bid for between £250,000 and £3.5m, with projects being required to meet the GPF eligibility criteria. Projects will be prioritised based on the assessment criteria for the available funding.
Types of project being sought
Show
The overall objectives of the Growing Places Fund are to support development at stalled investment sites, improve skills and learner numbers, to accelerate the delivery of new houses and to support the creation of new jobs.
Growing Places Fund projects should be aligned with SELEP's strategic objectives as set out in SELEP's Economic Strategy Statement, Smarter-Faster-Together.  The Economic Strategy Statement sets out five main priorities:
Priority 1 – Creating ideas and enterprise
Priority 2 – Developing tomorrow's workforce
Priority 3 – Accelerating infrastructure
Priority 4 – Creating Places
Priority 5 – Working together
Further details are available in the Guidance note for applicants.
Application process
Show
Project proposals will be evaluated through a three-stage process:
Stage 1 – Federated Area assessment, sifting and prioritisation of projects by Strategic Fit
Stage 2 – Independent Technical Evaluator assessment and scheme prioritisation by SELEP Investment Panel
Stage 3 – SELEP Accountability Board funding decision.
Stage 1 of the application process requires the completion of an Expression of Interest form for each proposed project.  Expression of Interest forms should be submitted to the relevant Federated Board lead contact as detailed below.
Expression of Interest form
Proposed timescales for GPF prioritisation
Show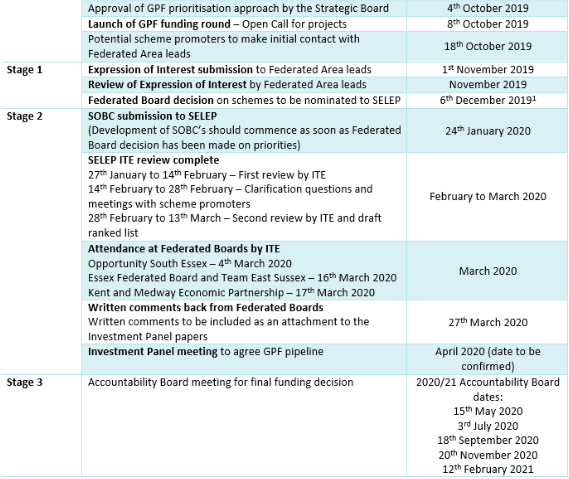 The deadline for submission of Expression of Interest forms is 1st November 2019
Further details on the application and evaluation process are provided in the Growing Places Fund – guidance note for applicants.
The Expression of Interest should be submitted to the appropriate lead officer for each Federated Board area. If scheme promoters are unclear of the appropriate contact within the Federated Area then applications should be sent to hello@southeastlep.com and they will be directed to the appropriate local contact.
Scheme promoters should make initial contact with the appropriate lead officer for the Federated Area by the 18th October 2019, to inform them of their intention to make a funding bid.