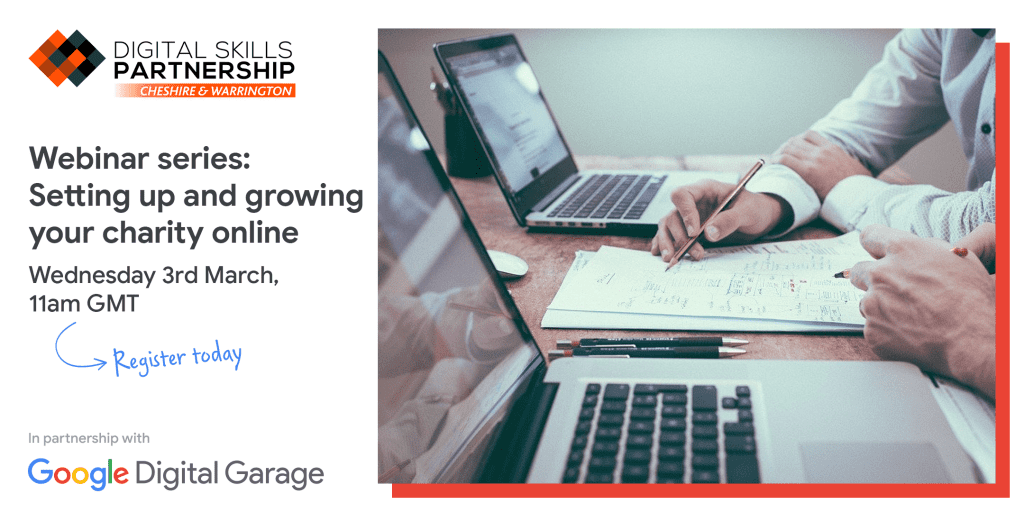 The South East Digital Skills Partnership, alongside its seven fellow DSPs across the country, has teamed up with Google Digital Garage to deliver a series of weekly sessions providing practical digital advice for small businesses, charities and individuals.
It marks the first time that the country's seven DSPs – comprising Cheshire and Warrington, Cornwall and the Isles of Scilly, Heart of the South West, Lancashire, South East, West Midlands and West Yorkshire – have worked together so closely.
DSP Coordinators came together to share local insight for their patches and agreed on a programme of 12 useful webinars that address common local needs or fill regional gaps.
The first five sessions each an hour long have already been agreed and will kick off on the 3rd March at 11am with a webinar on Setting Up and Growing Your Charity Online. The following four sessions will comprise:
Getting Your Business Visible on Google – 10th March, 11am
Improve Your Digital Marketing Strategy – 17th March, 11am
Setting Up Your Online Shop – 24th March, 11am
Get Started with Analytics – 31st March, 11am
Those interested in attending can register through Eventbrite at digitalskillspartnerships.eventbrite.co.uk.
The South East DSP previously worked with Google to hold several Google Digital Garage events across the SELEP area in 2019. These were hugely successful, and saw a mixture of attendees, from small business owners to students and those looking for employment.
Topics covered during those sessions included building a CV and cover letter; building a personal brand; writing for social media; building presentations; and Google's own #IamRemarkable series, which encourages attendees to realise their own achievements in their lives and careers.
This new series of webinars with Google Digital Garage is tailored to help businesses and charities, operating in an increasingly digital economy due to the ongoing COVID-19 pandemic. The seven sessions to follow will include those aimed at jobseekers.
The South East DSP's SME Working Group has been exploring ways to help businesses boost their digital skills, in a largely virtual environment. The Working Group organised a webinar for businesses on staying visible, viable and profitable in a rapidly changing business landscape.
South East DSP Coordinator James Wilkinson said:
"We're delighted to once again partner with the team at Google Digital Garage, in order to provide advice and support to small businesses and charities across the South East.

"The South East Digital Skills Partnership's SME and Charity-focused Working Group, led by Jane Knight from Successful Mums, continues to look at ways we can provide this kind of support, working with local and national partners, including Google."