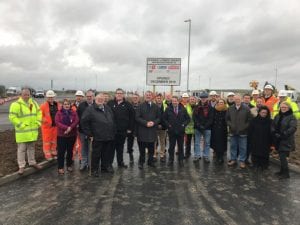 A new £1.8million roundabout has opened on a key road on Sheppey that was once the site of a  junction which had become a pinch point on the principal 'A' road that serves the Isle of Sheppey from its connection with the Strategic Road Network.
New roundabout
The new roundabout replaces the previous traffic light-controlled junction between Lower Road and Barton Hill Drive realigning and improving the capacity of the existing A2500 Lower Road/Barton Hill Junction.
The A2500 Lower Road improvements project realigns and improves the capacity of the existing A2500 Lower Road/Barton Hill Junction unlocking the delivery of around 1500 new houses and jobs by 2031.
Local Growth Fund

The roundabout is being funded by £1.26 million Local Growth Fund (LGF) and contributions from local developments.
Kent County Council cabinet member for highways Mike Whiting said: "It's fantastic to see phase one completed before Christmas. We've always known Lower Road is a key route on Sheppey and any issue can cause gridlock across the Island.

I am grateful to the South East Local Enterprise Partnership (SELEP), Swale Borough Council and of course the local Member of Parliament, Gordon Henderson MP, for working with us to secure the funding and thank you to our contractors Breheny Civil Engineering for building the scheme."
Christian Brodie, Chair of SELEP, said: "The new roundabout at the junction of Lower Road and Barton Hill drive is a vital new piece of infrastructure that will help ease congestion at this notorious bottleneck.

"Projects designed to make a real difference to the places where people live are exactly what Local Growth Fund support is all about, and it is always gratifying to see at first hand the realisation of a project that has been discussed in detail during the funding decision making process."I

"I hope local people and visitors to the area alike notice a real difference to their journeys now that the roundabout is open."
Part of a larger scheme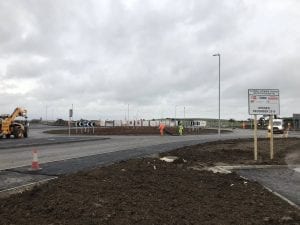 This is the first phase of a £6.65 million scheme to improve the A2500 Lower Road on the Isle of Sheppey has been completed. Phase two, due to follow next spring, will see the widening of the Lower Road from the A249 at Cowstead Corner to Barton Hill Drive and will include a new path and cycleway along the northside of the road.
Local Member of Parliament, Gordon Henderson MP said: "I am delighted that at long last work has begun on this much needed improvement to the Lower Road. Islanders have put up with congestion caused by an inadequate junction at the bottom of Barton's Hill Road for far too long.

"I have been campaigning since becoming MP for a solution to the daily problems faced by my constituents and I am grateful for the support given to me in that campaign by Island borough and county councillors; and local parish councils, particularly Minster Parish Council.

"I am grateful also for the Government for coming up with the funding for the development, and local farmer, Stephen Atwood, for contributing some of his land to enable the scheme to progress."
Find out more about the scheme