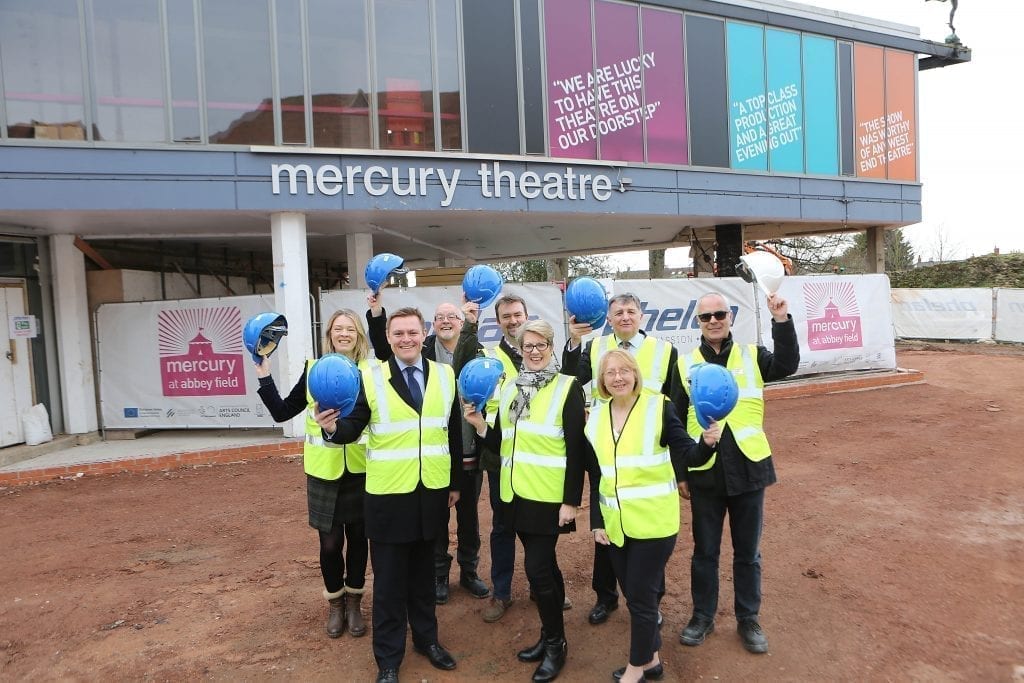 As the reopening of the Mercury Theatre draws ever closer, representatives from major funders of the redevelopment project and local and national government took a tour of the site to see its progress so far.
The £9.8 million Mercury Rising project will see three new rehearsal and studio spaces, a fully refurbished main auditorium, new front of house facilities including a larger more welcoming café & bar, more toilets and vastly improved accessibility across the entire building. There will also be a designated space for the support of emerging creative businesses in the South East region.
This exciting cultural development for Colchester has been funded by Arts Council England, South East Local Enterprise Partnership (SELEP), both Essex County and Colchester Borough Councils, European Regional Development Fund (ERDF), private trusts and foundations and the generosity of the local community.
Representatives from major funders were invited to tour the building alongside representatives from the Mercury Theatre, Colchester Borough Homes, Colchester Amphora Trading Ltd and Phelan Construction, alongside Will Quince MP. They are amongst some of the first to see the space in its development stage since the building closed when the major works began last year.
Will Quince MP, Member of Parliament for Colchester said:
"It was fantastic to see that the development of the new and improved Mercury Theatre building is coming to its final stages. It will be a massive upgrade from the previous building, with new state-of-the-art facilities and much more space for both performers and audiences to enjoy. The Mercury Theatre is at the centre of Colchester's vibrant arts and culture scene, and a major contributor to our local economy. The opening later this year will herald an exciting new chapter in our theatre's history."
George Kieffer, Essex Vice Chair of SELEP said:
"The South East Local Enterprise Partnership is pleased to be supporting important investments that are being made in the creative sector across the South East. The Mercury Theatre is a cornerstone of Colchester town and has long played a significant role in the cultural landscape of the wider Essex area as a regionally important centre for the creative arts. The creative, cultural and digital sector is an important business growth area for SELEP and the space provided for start-ups in this sector at the Mercury fully aligns with that strategy; it will benefit the town and its cultural scene and contribute towards business growth in Essex.

"I was delighted to be able to witness the progress that has been made towards a new, modern and accessible space for the town – one that is sure to attract visitors from across the South East and further beyond, as well as provide a haven for like-minded creative entrepreneurs to grow their new businesses."
Steve Mannix, Executive Director of the Mercury Theatre said:
"It is important to have continual contact with our major funders and we want them to see for themselves the developments that are happening on site. We are so excited to bring Colchester a wonderful modern space that is truly accessible and open to all. We are very grateful for the support of our major funders, and of Mr. Quince's continual support of culture and performing arts in his constituency. We are now so close to realising our dream of a leading cultural and performing arts venue for the town and wider region and cannot wait to reopen in the Autumn."
Cllr Julie Young, CBC Deputy Leader & Portfolio Holder for Culture and Performance said:
"This is an extremely exciting development for Colchester. The Mercury Theatre plays a huge and vibrant part in the cultural life of the town, not only in terms of its productions but also through the programmes it offers to members of the community. I was so impressed to see the remarkable progress made on the new-look Mercury and eagerly await the theatre reopening its doors later this year."
Essex County Councillor, Susan Barker, Cabinet Member for Customer, Corporate, Culture and Communities said:
"The development of the Mercury Theatre is progressing at pace and I'm thrilled that, before the year is out, Essex will see the reopening of this fantastic venue for theatre and performing arts, with incredible new facilities."