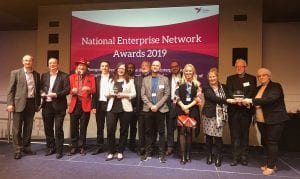 Let's Do Business Group (LDBG) has received the National Enterprise of the Year Award for Enterprise Support Organisation of the Year (turnover over £750k), for its work supporting start up and growing businesses in the South East.
The award recognises Let's Do Business Group's significant impact helping budding and established entrepreneurs in the South and East of England. The judges said: "The Let's Do Business Group are a shining example of an enterprise support organisation that delivers a high quality service, and supports a happy workforce."
Let's Do Business Group has grown and developed significantly over the last three years and has successfully increased the number of companies supported, quality of provision, turnover and profitability, successfully delivering on contracts and extending their loan and finance offer into new areas.
Over the last twelve months Let's Do Business Group has supported over 2,700 businesses, including over 500 new businesses (of which 208 were started by people previously unemployed), helped create 2,200 jobs and helped businesses access over £6.3m of further investment.
Graham Marley, Let's Do Business Group Chief Executive said: "We are really proud of this award, it is a testament to the hard work of the whole team which supports businesses across Sussex, Kent and Essex."
Held on 22nd November at the London headquarters of Barclays Bank, the National Enterprise Network Awards were established in 2007 to recognise excellence in the delivery of enterprise support, encouraging the exchange of good practice and the development of improved services and organisations.