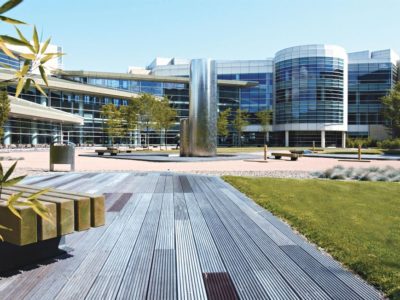 Discovery Park, the life sciences park based in Sandwich, Kent, has been recognised by the Government's Office for Life Sciences as a Life Sciences Opportunity Zone (LSOZ) alongside five other locations, lending credence to the park's growth potential, particularly in advanced manufacturing, digital and artificial intelligence within healthcare.
The new LSOZ status will help Discovery Park attract investment, deliver jobs, drive economic growth and deliver improved health services, as well as be a part of developing a regional life sciences cluster. Government officials will work with Discovery Park to attract investment from national and international businesses.
Christian Brodie, Chair of the South East Local Enterprise Partnership, said:
"SELEP is pleased to see that the strengths and expertise at Discovery Park have been recognised, and looks forward to continuing to work with it to make the most of this new LSOZ status and the investment it will bring. Activity at the Park is in line with the emerging priorities for our Local Industrial Strategy, focused on improving productivity through investment."
Mayer Schreiber, CEO of Discovery Park, said:
"We are proud that Discovery Park has been awarded Life Sciences Opportunity Zone status, highlighting our strengths and driving our innovation and investment focus this year. Discovery Park looks forward to working with other LSOZs and the Government, realising our strategy and contributing to the success of the UK life sciences industry.

"Thanks are due to our supportive tenants and partners as we work together to make Discovery Park the home for ambitious growing firms, from small molecules through to biologicals and advanced therapies."
Attracting top talent
The news comes as the Government announces a £10 million investment, which is designed to attract the world's top scientists, researchers and mathematicians, and will go hand-in-hand with a new visa route for overseas scientists and researchers that has come into law.
The Innovation Scholars scheme will aid in ensuring that the next generation of life sciences researchers are supporting businesses and research organisations to develop advanced technologies that speed up new treatments and cures for illnesses.
Life Sciences Minister Nadhim Zahawi said:
"The UK's life sciences sector is booming. We are home to one of the strongest, most vibrant health and life science industries globally, with brilliant discoveries and improvements in health diagnosis being made every single day.

"Collaboration is vital to growing this sector and this investment will support the exchanging of new ideas, knowledge and skills between researchers and businesses while encouraging strong collaboration between them, the NHS and the Government."
The deadline for applications to the first round of the Innovations Scholars scheme is 15th April 2020. Click here for more information on how to apply.