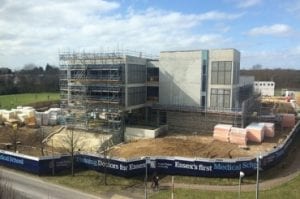 The Government has announced funding for two new medical schools in the South East Local Enterprise Partnership area in a bid to ensure there are enough doctors and staff in places where it has been traditionally difficult to recruit NHS staff.
New schools will open in Canterbury and Chelmsford in September, Health Secretary Jeremy Hunt announced as part of a nationwide initiative on March 20th.
In Canterbury the school will be a joint venture between the University of Kent and Canterbury Christ Church University, while the Chelmsford site will be at Anglia Ruskin University.
Retaining skills locally
"Setting up five new medical schools is part of the biggest ever expansion of our medical and nursing workforce; which will help us deal with the challenges of having around one million more over 75s in 10 years' time," said Mr Hunt.

"These schools are being set up in parts of the country where it can be hard to recruit and attract new doctors – but will benefit doctors everywhere as we start to eliminate the rota gaps that add so much pressure to their work."
There is evidence that a large proportion of doctors stay in the regions where they trained, while places have also been preferentially allocated to schools which have a proven track record for producing in-demand medical specialities, such as psychiatrists and general practitioners, as well as those who have good feeder networks to help pupils from disadvantaged backgrounds get into medical training.
Attracting high quality students
Graham Razey, Skills Lead at SELEP and Principal & Chief Executive of EKC Group, said: "This announcement is tremendous news for all three universities, all of whom work closely with SELEP to help bridge the skills gaps that can be a challenge for growth in many sectors.

These two new medical schools will attract high quality students from the south east, the UK and abroad, with the likelihood that many will remain locally once they have graduated, applying the knowledge learned to support the health and welfare of our growing population.

The long-term benefits for the universities, students, the NHS and other health institutions, and the south east economy as a whole cannot be overstated."
Wider impact for the area
Christian Brodie, Chairman of SELEP, said: "In addition to the long-term support for our hard-pressed NHS hospitals and institutions, this announcement will bring wider benefits for the medical and life sciences sector across the area.

"Companies in these important high-value sectors will be naturally drawn to areas with a growing pool of talent armed with the relevant and necessary skills to help drive research and development.

"The new medical schools in Canterbury and Chelmsford will make a significant contribution to the wider economy of the south east."
New medical school at Canterbury:
The joint University of Kent and Canterbury Christ Church University School of Medicine will focus on community and primary care with early clinical placements within Community Education Provider Networks – covering GP surgeries, pharmacies, and local care centres – from year one.
It also aims to:
address workforce shortages in priority areas by developing doctors in specialities that are currently under-represented in Kent and Medway
offer five-year undergraduate programmes resulting in joint degrees from both the University of Kent and Canterbury Christ Church University in Bachelor of Medicine and Bachelor of Surgery
deliver teaching and research across both universities' Canterbury and Medway campuses, building on their existing knowledge and expertise
ensure students are fully part of both student communities, working closely with those in other health and social care programmes and taking up placements that embed them within community healthcare organisations.
New medical school at Chelmsford:
The Essex School of Medicine at Anglia Ruskin University will be the first of the new schools in the UK to start taking students this year.
It is collaborating with five NHS hospitals, a large mental health trust and more than 60 GP surgeries to provide students with a range of clinical experience in urban and rural environments. Students will be taught by visiting clinicians from NHS Trusts and general practice as well as faculty staff.
It will be underpinned by the world-leading, clinically-focused research already being carried out within Anglia Ruskin's Faculty of Medical Science. The university also aspires to offer a proportion of places to students from Essex and the wider East of England region.