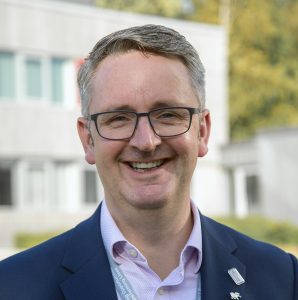 The South East Local Enterprise Partnership (SELEP) is delighted to announce MidKent College Principal and Chief Executive Simon Cook as its new Deputy Chair. Simon will work alongside SELEP Chair Sarah Dance to further the LEP's strategic agenda over the coming years.
Simon has been involved in the LEP for many years, sitting on SELEP's Accountability Board as the Further Education representative. He also sits on the board of the Kent and Medway Economic Partnership (KMEP), one of SELEP's Federated Boards.
After a successful stint as a chef, Simon trained to become a teacher in 2000. He was named Vice Principal of MidKent College in 2013 before becoming its Principal & CEO in 2016. He is a School Governor, a Kent Ambassador, Chairs the Medway Place Board, as well as being a Council Representative for the post-16 and Further Education sector at the Association of School and College Leaders.
In his new role, Simon will work alongside Chair Sarah Dance to maintain relationships with SELEP's business partners, neighbouring LEPs and other stakeholders, including Government ministers, local MPs, Local Authority leaders and key players in Simon's field of Further Education as well as Higher Education.
Simon Cook said:
"It's an honour to take on this new role within the LEP, and I look forward to working alongside Sarah to champion SELEP, its work over the last decade and its strategic direction in the near future.

"SELEP's work in the skills agenda has helped to shape the education, training and business landscape in the South East. We as a LEP have backed more than 40 skills projects supported by over £40m investment for skills training across the South East.

"In my new role, I look forward to working with Sarah to continue the LEP's strategic vision, utilising its vast network to convene and collaborate organisations across the South East with the shared goal of a better economy for the South East and its residents."
SELEP Chair Sarah Dance said:
"I am delighted that Simon will be joining me on the South East LEP Ltd Board as Deputy Chair. I know that his expertise in the Further Education sector, as well as his extremely useful experience on SELEP's Accountability Board, means that as a team, we can make a real impact for the LEP in the South East.

"We currently remain focused on the LEP's ongoing and important work of collaborating, convening, and delivering to support the growth agenda, with a number of key areas of work to be delivered throughout the coming year. I know that Simon's ambition to create the best landscape in the South East for skills and business matches mine, and together we will get to work."