News that Essex has secured more than half of the £600 million national funding announced by Government for rail and road improvements to support new homes, has been welcomed by the partners behind the two successful bid to the Housing Infrastructure Fund (HIF).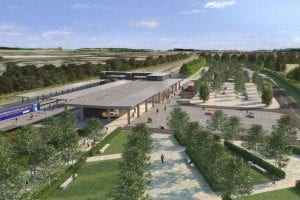 Chancellor of the Exchequer Rt Hon Sajid Javid MP has announced more than £600 million from the Housing Infrastructure Fund (HIF) to support the building of up to 50,000 new homes nationally in high demand areas in England.
Two successful bids
The two successful Essex bids include £218 million for the Beaulieu Station and North-East bypass in Chelmsford and a further £99.9 million for the Tendring Colchester Borders Garden Community bid to deliver a new single carriageway link road and works to unlock up to 7,500 homes.
Both bids were led by Essex County Council and supported by Network Rail and South East Local Enterprise Partnership (SELEP).
Cllr David Finch, Leader of Essex County Council, said: "We are delighted that the Government has recognised the value of these projects and confirmed we will have much needed investment to support vital infrastructure and unlock housing growth.
"The announcement is truly reflective of just how key road, rail and public transport networks are for Essex's growth, helping create the conditions for our economy and communities to grow in a sustainable way. We are pleased that Government has recognised this with over half of the £600m HIF money being directed to Essex.
"Chelmsford and Colchester are already great places for people to live and for businesses to thrive and this funding will help grow the attraction of both places for generations to come.
"I would like to thank all those involved in preparing the bids across Essex. This investment today is an excellent demonstration of value for money for the £2m we invested to develop these bids."
The Beaulieu money will go towards a new railway station and road improvements to unlock up to 14,000 homes and follows an earlier decision by SELEP to allocate £12million of Local Growth Fund to the project. SELEP's role is to prioritise and back funding support for projects across Essex, East Sussex, Kent, Medway, Thurrock and Southend.
Combined with the Chelmsford North East Bypass, which will run between the A12 and A131, this will help to relieve traffic congestion on local roads, providing a strategic link between Chelmsford, Braintree, London Stansted Airport, the proposed Lower Thames Crossing and the wider east and south east of England.
HIF funding
The HIF funding, originally launched by Sajid Javid when he was Secretary of State for Communities and Local Government, has allocated £1.3 billion nationally to deliver up to 76,500 homes.
Announcing the HIF investments, Sajid Javid said: "I want to see more homes built in the places people want to live, so more people can realise the dream of homeownership.
"But we need the roads, rail links, and schools to support the families living in those homes, which is why I set up a fund to put in place the infrastructure to unlock new homes in these areas."
Christian Brodie, Chair of SELEP, said: "The funding support is in recognition of the two projects' strategic importance and the positive impact they will each have. This is excellent news, and congratulations must go to Essex County Council for putting together such compelling bids.
"The HIF funding support for Essex recognises that to build and sustain communities each must have the all-important road and rail infrastructure that enables people to live and work there.
"The new station serving the growth of Chelmsford is needed to provide connectivity for residents and employers within Essex and to London and further afield. Improved access to the rail network through Beaulieu Park will also benefit the growing communities in the heart of Essex, such as Maldon, Heybridge, Great Dunmow and Braintree.
"The infrastructure first approach to delivering the Tendring Colchester Borders Garden Community is to be welcomed. Helped by nearly £100m of HIF support, it will secure new housing and jobs alongside transformational infrastructure, including a new link road between the A120 and A133 and a Rapid Transit System serving new and existing residents in economically significant Colchester."
Commenting on funding support, Mark Budden, interim route director for Network Rail Anglia said: "The proposed new station at Beaulieu shows the benefit of collaborative working to unlock the potential economic benefits to help bring much-needed homes and jobs to Chelmsford, as well as improved transport links to this growing area.
"We look forward to working with Essex County Council and its partners to deliver this project for rail passengers."
Councillor Mike Mackrory, Cabinet Member for Greener Chelmsford, said: "This is absolutely wonderful news for our city. Securing £212 million funding for these two projects is a massive step forward in delivering the required infrastructure for Chelmsford's new Local Plan. It's the last piece of the jigsaw, helping us to make sure that the new homes we are required to build are properly supported by sustainable transport networks and job opportunities.
"A great deal of hard work has gone into this bid on the part of both City and County Council officers and our partner organisations and I am thrilled that it has been successful."
Notes on the Housing Infrastructure Fund (HIF)
In addition to the £318m support for the two Essex projects, the Government has announced:
£156 million for the Meridian Water bid from Enfield to deliver rail works, road infrastructure, land remediation, flood alleviation and utilities to unlock up to 10,000 homes
£69.6 million for the Transformational Growth in Biggleswade bid from Central Bedfordshire to deliver a new secondary school and transport infrastructure to unlock up to c.3,000 homes.
£80.8 million for the East London Line – Growth Capacity bid from the GLA to deliver transport upgrades to unlock up to 14,000 homes.
The Housing Infrastructure Fund is a government capital grant programme of up to £5.5 billion. The Fund is divided into 2 streams:
Marginal Viability Funding: available to all single and lower tier local authorities in England – to provide the final or missing piece of infrastructure funding to get additional sites allocated or existing sites unblocked quickly
Forward Funding: available to the uppermost tier of local authorities in England – for a small number of strategic and high-impact infrastructure projects. The announced projects are all successful 'Forward Funding' bids.