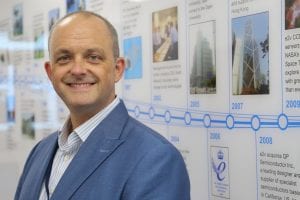 Success Essex – the newly formed business-led Board for the west, mid and northern part of Essex – held its first meeting yesterday (2nd December 2019) chaired by Dr Miles Adcock, President of Space & Quantum at Teledyne-e2v, advanced technology manufacturer based in Chelmsford.
The new board will see business representatives work with Local Authorities and educators to set the strategic priorities for economic growth and investment in the northern and central parts of Essex. The Board is the formal local area body of the bigger South East Local Enterprise Partnership (SELEP), a regional body setting the priorities and attracting investment and growth across East Sussex, Kent & Medway, Essex, Southend and Thurrock. Success Essex Chair Adcock, another business member and a Local Authority member will represent Success Essex on the South East LEP's Strategic Board from early next year.
The new Success Essex board was formed through an open and transparent recruitment process, prompted by the LEP's ongoing review with central government. Newly formed Success Essex is developing an Essex Prosperity and Productivity Plan, which sets out the economic growth goals of the area for the near future.
The new Success Essex board includes eight business representatives from significant companies and key sectors;
Dr Miles Adcock – Teledyne e2v
Colin James – Penguin Random House
Lara Fox – Objective IT
Lindsey Hayward – Konica Minolta
Richard Davidson – Willmott Dixon
Trevor Scott – Simarco Worldwide Logistics
David Rayner – Birkett Long LLP
Jonathan Oates – MAG London Stansted
four Local Authority representatives; one Further Education partner; and two Higher Education representatives:
Cllr Chris Whitbread – Epping Forest District Council
Cllr Graham Butland – Braintree District Council
Cllr Tony Ball – Essex County Council
Cllr Martin Bracken – Chelmsford
Andy Sparks – Chelmsford College
Fiona Bodle – Anglia Ruskin University
Dr Kirstie Cochrane – University of Essex
David Birch – Essex Chamber of Commerce
George Kiefer – Vice Chair Essex at SELEP.
At its first meeting as a refreshed local board, Success Essex members discussed the strategic direction of the Prosperity and Productivity Plan as well as deciding on the sub-groups and missions to drive the board's work programme. The board discussed two Growing Places Fund projects in Essex, to go forward for future funding opportunities to the South East LEP Board.
The board received an update on Local Growth Fund (LGF) projects for the area; to date, £92.572m has been awarded from the LGF to the Essex Federated Area to deliver new jobs and homes.
Member Lindsey Hayward – who is Head of Talent Management & Business Partnering at Konica Minolta and also sits on the South East LEP's Skills Advisory Panel – provided board members with an update on the panel's ongoing work to combat the skills shortage across the LEP area.
Dr Miles Adcock said:
"I am proud to be a business leader based in Essex. No community exists in isolation, whether private sector, public, regional, national, market sector, demography, or education. The opportunity to be part of a highly collaborative but focussed group that intends to make a real difference to business and people in Essex is very exciting.

"Essex has incredible diversity and depth in its people and enterprises, and it is the right time for a much more proactive and focussed approach to Local Industrial Strategy that attracts investments that make a real difference."
South East LEP Chair Christian Brodie said:
"We welcome Miles and his expertise to the newly invigorated Federated Board for the central and northern area of Essex – and we are equally as delighted that Miles will be supported by the skills and knowledge of the refreshed board of members.

"It is incredibly important for every part of the South East LEP area to have a strong business voice. Success Essex will benefit from the knowledge and experiences of a range of top businesses, including partners from London Stansted Airport and Penguin Random House, to guide the work of the LEP and future investments.

"These voices form the essence of the LEP; it is a coalition for growth with business, Local Authorities and educators. Having representatives with passion for their area and expertise in their business area creates a strong and prosperous partnership for all."