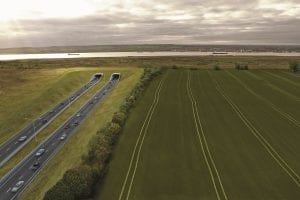 Consultation on updated plans for the new Lower Thames Crossing will start this week running for ten weeks from Wednesday 10th October and until Thursday 20 December.
47,000 people engaged with previous consultation
Some 47,000 people had their say in the previous consultation on the proposals – a record for a UK road scheme. We will be seeking your views on an updated, more detailed design which will maximise the project's huge benefits connecting Essex, Thurrock and Kent.
The purpose of the new Thames crossing
The Lower Thames Crossing will ease pressure on the existing Dartford Crossing and will add extra resilience to the road network. The updated plans also include significant changes to minimise the impact on local communities and the environment.
25 public information  events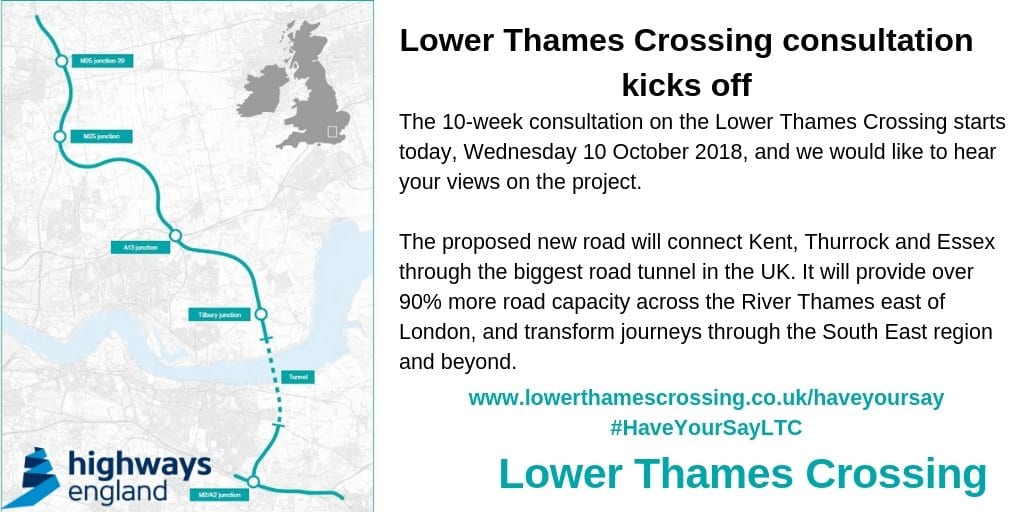 There will be 25 public information events; being held across Kent, Thurrock and Essex, and our mobile information van will visit 30 locations to help people understand more about the proposals and put any questions directly to the project team. At each event, specialists will be on hand to explain the proposed route, how it would be built and operated, and how Highways England plan to minimise the impact on the local environment and community. All information will also be available online.
Details of the public information events are as follows:
Orsett Hall Hotel, Prince Charles Avenue, Orsett, RM16 3HS on Tuesday 16 October from 2pm to 9pm
Bluewater Shopping Centre, Bluewater Parkway, Greenhithe, DA9 9ST, on Saturday 20 October from 9am to 9pm, and Sunday 21 October from 11am to 5pm
Chalk Parish Hall, Pirrip Close, Gravesend, DA12 2ND, on Monday 22 October from 2pm to 9pm
Mick Jagger Centre, Shepherds Lane, Dartford, DA1 2JZ, on Tuesday 23 October from 2pm to 9pm
West Horndon Village Hall, Thorndon Avenue, West Horndon, CM13 3TP on Wednesday 24 October from 2pm to 9pm
Lakeside Shopping Centre, West Thurrock Way, Grays, RM20 2ZP on Saturday 27 October from 9am to 9pm, and on Sunday 28 October from 11am to 5pm
Tilbury Community Association, Civic Square, Yilbury, RM18 8AA on Tuesday 30 October from 2pm to 9pm
Cascades Leisure Centre, Thong Lane, Gravesend, DA12 4LG, on Thursday 1 November, from 2pm to 9pm
Shorne Village Hall, 16 The Street, Shorne, DA12 3EA, on Saturday 3 November from midday to 6pm
Civic Hall, Blackshots Lane, Grays, RM16 2JU on Tuesday 6 November from 2pm to 9pm
Linford Methodist Church, East Tilbury Road, Linford, SS17 0QQ on Wednesday 14 November from 2pm to 9pm
Brandon Groves Community Club, Brandon Groves Avenue, South Ockendon, RM15 6TD on Friday 16 November from 2pm to 9pm
The New Windmill Hotel, St Mary's Lane, Upminster, RM14 2QH on Saturday 17 November from midday to 6pm
Holiday Inn Basildon, Cranes Farm Road, Waterfront Walk, Festival Leisure Park, Basildon, SS14 3DG on Monday 19 November from 2pm to 9pm
Gravesham Civic Centre, Windmill Street, Gravesend, DA12 1AU, on Wednesday 21 November from 2pm to 9pm
St Mary Magdalene Church, Church Lane, Upminster, RM14 3QH on Thursday 22 November from 2pm to 9pm
Holiday Inn Brentwood M25 junction 28, Brooke Street, Brentwood, CM14 5NF on Wednesday 28 November from 2pm to 9pm
Havering Town Hall, Main Road, Romford, RM1 3BD on Friday 30 November from 2pm to 9pm
Doubletree Dartford Bridge, Masthead Close, Crossways Business Park, Dartfrod, DA2 6QF, on Monday 3 December from 2pm to 9pm
Dover Town Hall, Biggin Street, Dover, CT16 1DL, on Tuesday 4 December, from 2pm to 9pm
Rochester Corn Exchange, Northgate, Rochester, ME1 1LS, on Wednesday 5 December, from 2pm to 9pm
Chadwell Village Hall, Waterson Road, Chadwell St Mary, RM16 4NX on Friday 7 December from 2pm to 9pm
#HaveYourSayLTC
Highways England want to hear your views on the Lower Thames Crossing. Have your say and complete the online survey here: