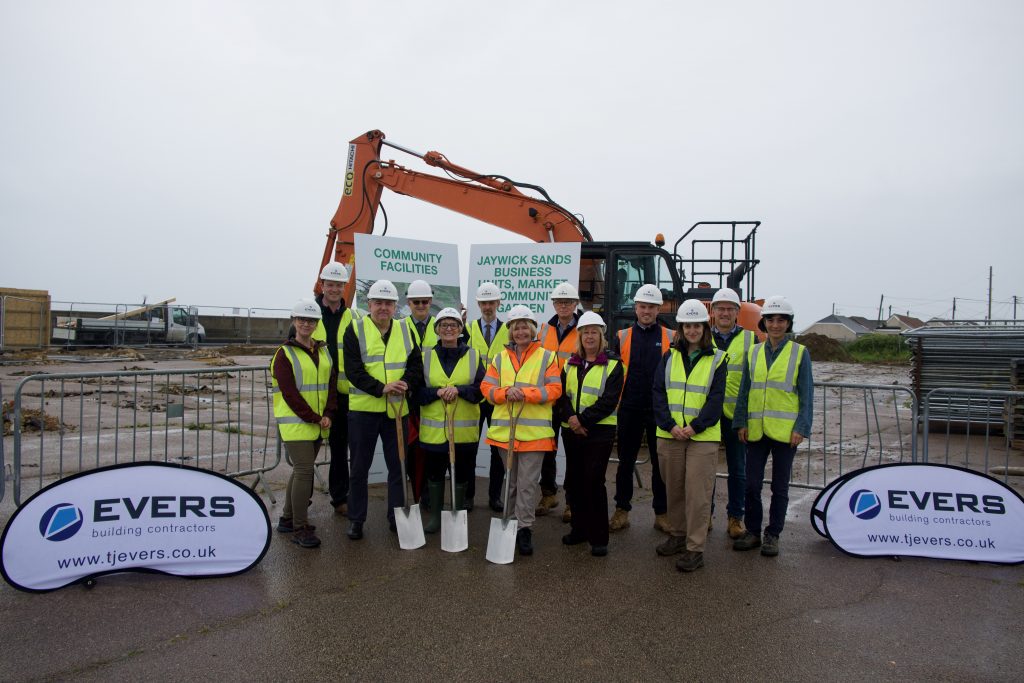 Work has begun on construction of a multi-million pound commercial workspace development in Jaywick Sands.
Contractors TJ Evers took over the site, off Lotus Way, at the end of April to prepare the area for construction, and now ground-breaking has taken place on the £4.4million project.
The site will house 24 affordable business units, a ten-pitch covered market, training room, café, public toilets and community garden on the seafront, as well as new pavements and lighting, on the former Sunspot site and surrounding land.
Lesley Wagland OBE, Essex County Council Cabinet Member for Economic Renewal, Infrastructure and Planning, said it was exciting to see work get underway.
"Any project of this scale takes a lot of planning, so to be at the point of spades in the ground on this scheme – which will deliver support for local businesses and local jobs for residents is something to be celebrated," Cllr Wagland said.

"This new commercial space will provide affordable space for 25 businesses, a covered market, as well as a new community garden and I look forward to being able to visit again once the workspace is fully open."
Funding for the scheme comes from Essex County Council (ECC), which has contributed £2.03m, the Getting Building Fund, administered by the South East Local Enterprise Partnership (SELEP), with £1.972m, and TDC which has contributed £405,000 to date.
Adam Bryan, Chief Executive Officer of SELEP, added:
"This major project is an ideal example of the Getting Building Fund, creating a space that will provide employment and opportunities for Tendring residents, as well as attracting people to Jaywick Sands and supporting its revival."
Planning permission for the project was awarded in July 2021, with the project directly supporting around 40 full-time equivalent jobs and 16 indirectly.
Overall the work will take 40 weeks, with the scheme due to open next Spring.
Cllr Mary Newton, Tendring District Council (TDC) Cabinet Member for Business and Economic Growth, added:
"I was delighted to learn that the site manager is a Clactonian born and bred, and that the contractors are looking to recruit local residents with the right experience to work on the construction."