Artists can win a share of £3,000 as part of a new competition to create two large-scale artworks for the newly opened Innovation Centre, Knowledge Gateway.

The Innovation Centre, backed by £2m Local Growth Fund support from South East Local Enterprise Partnership, is working in partnership with Creative Colchester, to support the local creative community by commissioning new art to be showcased in the centre's coworking space and communal area.
Based in the Knowledge Gateway research and technology park on the University of Essex's Colchester Campus, the Innovation Centre offers flexible workspace solutions, networking opportunities, business support and masterclasses for innovative technology businesses. The artworks created should reflect the forward-thinking and innovative approach of the space and the businesses based there. The successful artists will be selected by a panel of judges with close ties to the Colchester creative, tech and art scene. This creates a wonderful opportunity to show off the amazing talent in Colchester's creative sector.
Innovation Centre Director Daniel Smart said: "I joined the board of Creative Colchester to help shine a light on the incredible talent that is thriving here in Essex. Being born and bred in Colchester, I am now very excited to showcase local work to all the visitors and residents of the Innovation Centre."
The Innovation Centre, Knowledge Gateway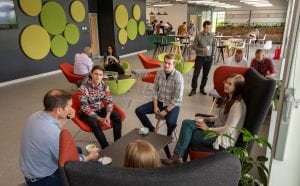 Innovation Centre, Knowledge Gateway has been developed for start-up and scale-up businesses in the tech, creative, digital, data, engineering, social sciences and media sectors. A partnership between the University of Essex and Oxford Innovation, the UK's leading innovation centre operator, the Innovation Centre is focused on creating a regional hub that fosters collaboration and supports the tech ecosystem in the Colchester and North Essex area.
With the vibrant community of the University of Essex on their doorstep, creativity and knowledge will meet entrepreneurs and commercial bodies. The typical clientele will be innovative, thought-leading businesses focused on developing their ideas within a supportive community. They will be working alongside the student body and interacting with the local political, social and economic communities. The commissioned artworks should capture an aspect of this meeting of minds.
Judging Panel
The judging panel will be an exciting mix of stakeholders in the Colchester art and tech scene, with representatives from:
Oxford Innovation
First Site
Essex County Council
The Innovation Centre, Knowledge Gateway
The University of Essex
If you are an artist looking to submit your idea, please find out more here
If you would like to explore whether your tech business would benefit from being part of The Innovation Centre, call 01206 405 500 or click here to find out more.