Plans to create The Neptune Co-Working Project, new business hub in the centre of Herne Bay, have received a major boost with the award of a £212,950 grant from the government and been welcomed by the South East Local Enterprise Partnership.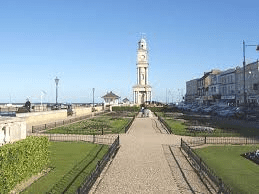 The grant, awarded from the Ministry of Housing, Communities and Local Government's Coastal Communities Fund, covers more than half of the project's total cost of £384,000.
Co-working space
The project, part of the Herne Bay Coastal Community team's economic development plan, will create co-working office, training, meeting and studio space for local start up and existing creative businesses to develop and grow, creating jobs and supporting economic diversification of a tourism-based economy.
The Neptune Co-Working Project will be located in the former council District Offices in Wimereux Square and will be opening this autumn.
It will feature co-working office space, meeting rooms and training rooms. Businesses based there will be provided with guidance and training, as well as the support of an on-site manager.
Head of Property and Regeneration at Canterbury City Council, Caroline Hicks, said: "We're incredibly pleased our funding bid to the government has been agreed. This project aims to promote entrepreneurship in Herne Bay at every stage, and we estimate more than 20 new jobs will be created and around 30 more will be protected.
"The focus will be on supporting the development and long-term retention of jobs in the town that are not reliant on tourism.
"It's an exciting initiative and we're looking forward to working with the Herne Bay Coastal Community Team to create a long-lasting, vibrant and highly successful business hub right in the heart of Herne Bay."
Strengthening coastal economy
Christian Brodie, Chairman of South East Local Enterprise Partnership, said: "Strengthening our coastal economy is a key priority for ourselves and local partners, and at the heart of our Economic Strategy Statement: Smarter, Faster, Together.
"We are delighted that the merits of the Neptune Co-Working Project have been recognised by the Government for support."