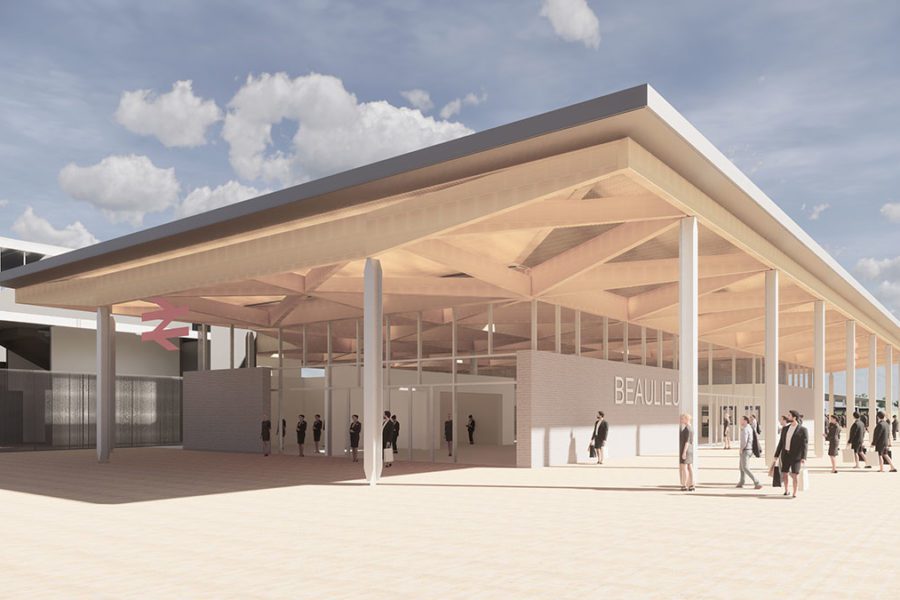 Plans to deliver a new station for the Chelmsford area took a major step forward with the granting of detailed planning permission by Chelmsford City Council. This will be the first new station on the Great Eastern Main Line in 100 years.
Key part of new Chelmsford Garden Community
The new station is a key transport and economic component of the new Chelmsford Garden Community, which will deliver more than 10,000 new homes, 1 million square feet of new business space, schools, quality open spaces and community facilities.
It will provide Chelmsford with its second station, easing congestion in the city centre, which has the busiest two-platform railway station outside of London. The project will also provide sustainable travel choices for cyclists and pedestrians, with links to existing and new communities.
The partnership delivering the station
The station is being delivered through a partnership between Network Rail, Essex County Council, Chelmsford City Council, the South East Local Enterprise Partnership and Countryside Zest.
With Government funding from the Housing Infrastructure Fund, developer contributions and the South East Local Enterprise Partnership, this is the final stage of the planning process for the new station.
Key features
Features planned for the new station include:
Three platforms with a central loop line and new tracks. This will enable stopping services to call at the station, while allowing fast trains to pass through unimpeded
Accessible toilets, change facilities, waiting areas and space for retail and catering
500 spaces for cycle parking and storage
A bus interchange and dedicated taxi bays
Parking for more than 700 cars, including designated Blue Badge bays and motorcycle spaces
Works due to start in spring 2023
With both the funding and detailed planning now in place, the station will now move through the final stages of its technical design. Its anticipated start date on site is early spring 2023 and under the current programme, the station is scheduled to be completed in December 2025.
Cllr Stephen Robinson, Leader of Chelmsford City Council said:
"This new station will enable more sustainable travel choices to residents of the new Garden Community and the wider city. It's all part of our plan to make Chelmsford a greener, fairer and more-connected community. It's been a very long time coming but at last it is on the way."
Cllr Lesley Wagland OBE, Essex County Council's Cabinet Member for Economic Renewal, Infrastructure and Planning said:
"As a driver of the regional economy, Chelmsford needs a transport network to match if it is to properly facilitate future development and economic growth and I am, therefore, pleased to see plans for the station, which will support some 2,500 additional jobs and generate a near £250m economic boost, progressing.

"In addition to people commuting to and within the city, strategic road and rail links are crucial to Chelmsford continuing to be an attractive base for people so this scheme, together with our associated project for a Chelmsford North East bypass, is vital to the future prosperity of the area."
Network Rail's Anglia Route Director Ellie Burrows said:
"Building the first new station on the Great Eastern main line for over 100 years is very exciting, particularly as it will support the development of new communities. Giving these communities the opportunity to use rail, the most sustainable form of mass transportation, is really positive."
SELEP Chair Chris Brodie said:
"We are delighted to see this project achieve such an important milestone. Beaulieu is a great example of building a community, not just houses, and this infrastructure investment will not only deliver a new train station but also walking and cycling sustainable travel routes in the city. This investment opens doors for wider land and property development for the community, attracting new businesses and creating new jobs. We are delighted to see this fantastic project progressing."
Martin Leach, Managing Director, Strategic Land and Major Projects, Countryside on behalf of Countryside Zest said:
"It's fantastic to have reached this final stage of the planning process for this station which, once complete, will provide such important transport links for the Chelmsford community, as well as helping to significantly reduce congestion in the city centre. The new station will be within both walking and cycling distance for our Beaulieu residents, making it an easily accessible and sustainable travel choice."
For more updates on the station's development go to: networkrail.co.uk/running-the-railway/our-routes/anglia/improving-the-railway-in-anglia/beaulieu-station/