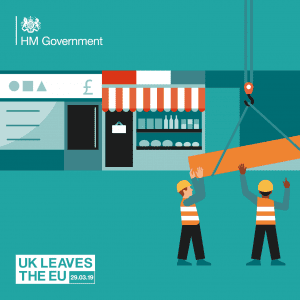 With only 50 days to go before Brexit on the 29th of March, we are urging the small business community to examine every part of their operations so they can prepare for a withdrawal from the European Union.
While major manufacturers have already demonstrated that they are making plans to manage the fallout from Brexit, it is of concern that smaller firms may be confused or may not even have considered what it might mean for their companies.
Supporting businesses
We offer support and advice through our local business support network of 'Growth Hubs' which can provide signposting and a one-stop-shop for information.
Christian Brodie, Chair of SELEP, said: "Through our business networks we are aware of commercial pressures already being experienced by the South East business community ahead of Brexit.

"We want to hear directly from business, especially the small ones which make up the majority of companies in our area, and we will share their concerns with our contacts in Whitehall so their voice is heard louder.

"Our colleagues in the area's Chambers of Commerce, Growth hubs and other business support agencies are already reporting that the ongoing uncertainty of Brexit is impacting on business performance with many companies holding off on investment decisions."
Brexit concerns
Feedback from the business community suggests that businesses are experiencing a combination of issues, including:
Pressures on supply chains
Falling commercial and consumer confidence
Rising costs
Retaining skilled employees as EU workers return home
Stockpiling and its negative impact on cashflow
The challenge of retaining overseas customers
The impact of currency fluctuations on margins
Where to find UK-based alternative suppliers and customers
The need to develop new markets
Meeting with No 10
The call by SELEP follows a meeting between the Prime Minister Theresa May and LEP Chairs, attended by Christian Brodie earlier this week, which provided a direct route for the voice of business into the decision-making process in Whitehall during this crucial time.
Christian Brodie added: "The clock is counting down, and businesses can't wait for our politicians to finalise what Brexit might look like.

"We are asking Government to be as clear and open with the business community about the realities over the next 50 days, to move aside the politics and enable businesses to properly plan for their future."

Christian Brodie added: "As the closest part of the UK to mainland Europe, the immediate impact of a no-deal Brexit will be felt here first.

"The importance of our area's ports to the economic well-being of our country can't be under-estimated this has implications for our logistic companies, the wider supply chains and the movement of people to and from work and goods reaching suppliers locally. We know a lot of work is being done to minimise the impact on our motorway and road network, including Operation Brock.

"However, we would urge the Government and Highways England to urgently inform the area's businesses about Operation Brock so they can be best prepared for possible transport disruption."