No Use Empty Commercial, an initiative to bring vacant and derelict commercial property back into use for business and homes has secured £1m from The Growing Places Fund (GPF) following a successful bid to the South East Local Enterprise Partnership (SELEP) by Kent County Council.
The money will be used to help redevelop eight commercial units and 28 residential above them in the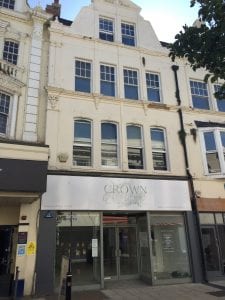 town centres of Dover, Folkestone and Thanet by March 2022.
Christian Brodie, Chair of SELEP, said: "This is an innovative scheme that will really make a difference to how our town centres look, and also their economic performance.
"We all know that many town centres have struggled to respond to the competition from large retailers and they in turn are finding it hard to compete against online traders.
"The result has been a reduction in footfall making many secondary streets in our town centres unsustainable, leaving pockets of empty shops, making those areas even less attractive to shop in and further damaging the trade of other retailers."
Thanks to No Use Empty Commercial, funding is available to provide short-term secured loans to return empty commercial properties to use for alternative commercial or mixed-use purposes.
Cllr Mark Dance, Kent County Council Cabinet Member for Economic Development, said: "The beauty of the project is  the revolving nature of the loan funding, with repayments being returned to the central pot for reallocation to new projects.
"With the loans secured against the property it means there is little or no risk to the public purse, so it is a win-win for everybody.
"As a result, there's the opportunity to kick-start and sustain ongoing regeneration in our hard-pressed town centres."
The No Use Empty Commercial scheme will build on the success of the No Use Empty residential scheme which is delivered in partnership with all 12 district councils.
Subject to the level of funds available, interest bearing loans over two years are available to help developers bring forward projects which are of a larger scale, either as a top-up or to fund the whole scheme.
The loans are secured and administered on a phased basis and interest is charged at market rates.
For further information of the No Use Empty Commercial scheme visit https://www.no-use-empty.org.uk/ or contact: Steve Grimshaw, KCC Strategic Programme Manger on 03000 417084.
Growing Places Fund
The Growing Places Fund (GPF) was established by the Ministry for Housing, Communities and Local

 Government (formerly the Department for Communities and Local Government) and the Department for Transport (DfT) in 2011. The aim of this funding is to unlock economic growth, create jobs and 'kick-start' house building at stalled development sites.