National Data: Labour Market
Coronavirus Job Retention Scheme
Since the peak of 8.9 million employments furloughed on 8 May, reductions have continued from June and preliminary figures show that furloughing of staff across all sectors continued to decrease up to 31 October, to 2.4m. This is a reduction of 73% from the peak. Note: the CJRS has now been extended to the end of April 2021, with Government contributing 80% towards wages.
Across all age bands the number of employments furloughed decreased between 1 July to 31 October; the highest numbers are still in the 25-34 age bracket with 526,000 at the end of October.
By sector, accommodation and food services and wholesale and retail have the highest numbers of claims as at 31st
The sector with the highest proportion of its workforce eligible for furlough that were actually furloughed was the accommodation and food services sector at 27% followed by arts, entertainment and recreation at 24%. The wholesale and retail sector were responsible for the greatest total value of claims up to the end of October at £8.0 billion, followed by accommodation and food services (£6.9bn) and manufacturing (£5.2bn).
Where it was possible to link the data, across the UK, 1.19 million women were furloughed at 31 October compared with 1.14 million men.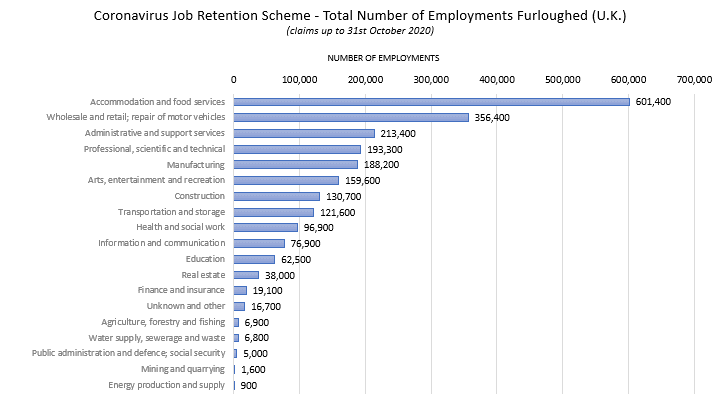 View the source data for furloughed staff in the UK