National Data: Economy
Gross Domestic Product
UK gross domestic product (GDP) is estimated to have increased by a record 16.0% in Quarter 3 (July to Sept) 2020, revised from the first estimate of 15.5% growth. Though this reflects some recovery of activity following the record contraction in Quarter 2 (Apr to June) 2020, the level of GDP in the UK is still 8.6% below where it was at the end of 2019, revised from an initial estimate of 9.7%. Compared with the same quarter a year ago, the UK economy fell by a revised 8.6%.
Monthly figures for GDP also show a growth of 0.4% in October 2020. This was the sixth consecutive monthly increase following a record fall of 19.5% in April 2020, but GDP remains 7.9% below February 2020 levels.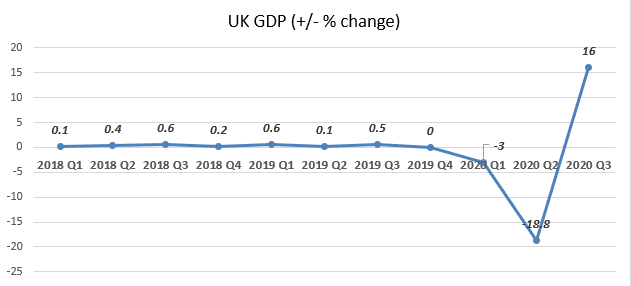 View the source data for UK GDP estimates
Purchasing Managers Index
Composite PMI is a recognised barometer of short-term economic activity. An index reading above 50 signals an increase in activity, which means the economy is growing. A reading below 50 signals decline and while the index dropped below 50 in November, latest data as of 16th December shows that it has increased in recent weeks up to 50.7.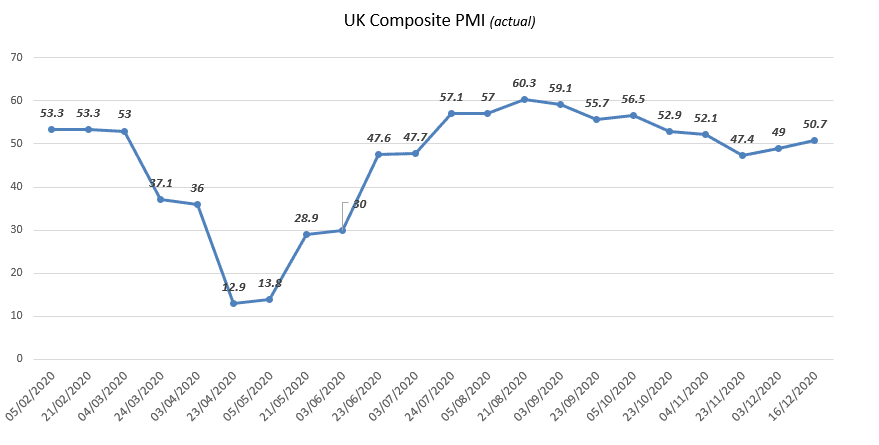 View the source data for UK Composite PMI