Economic Data and Intelligence
This page provides an overview of key intelligence on the impact to date of COVID-19 on our economic output, our people and our businesses.
We will use this information to guide our response, ensuring that we can protect and boost the SELEP economy in the short, medium and long term.
In the meantime, our COVID-19 Economic Response Statement sets out SELEP's immediate response to the impacts of the pandemic and outlines our focus for longer term economy recovery and growth.
This page will be updated monthly.
SELEP overview
COVID-19 Economic Response Statement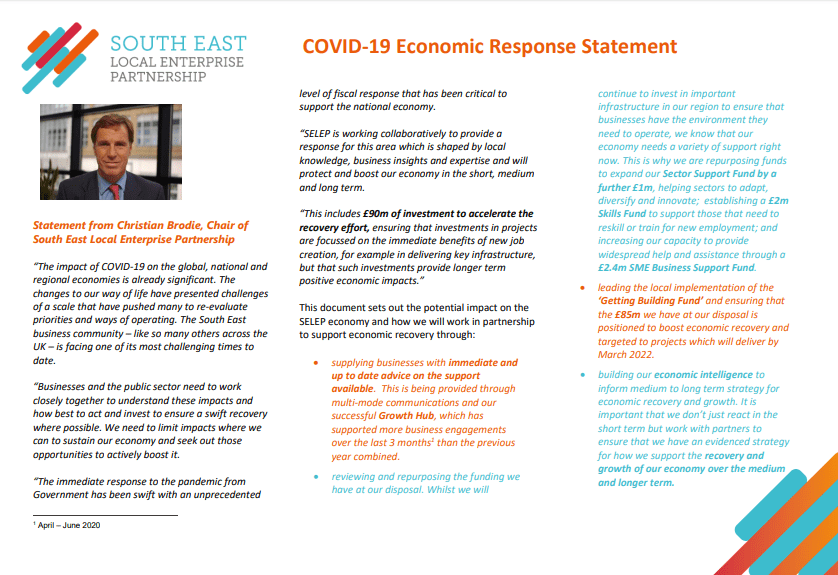 View SELEP's statement
SELEP saw its peak of COVID-19 cases in April at just under 8,000 followed by month on month reductions to 953 in August. In September and October cases have again begun to increase with 2,913 in September and 3,378 in the period from 1-14th Infection rates vary significantly across the four federated areas and the local authorities within SELEP, with districts in the Essex County Council area also having moved into Local COVID-19 Alert Level: High from midnight on 16th October.
At the end of July, over a third of the SELEP workforce, 583,200 employments, had received support through the furlough scheme, with Medway having the highest levels at 37,500 but one of the lowest proportions of eligible employments. Braintree, Eastbourne and Maldon saw the highest proportions at 34-35%.
193,600 self-employment income support claims were made in SELEP in the period to 31st July (Grant 1). On the 17 August 2020 applications for the second grant of SEISS opened (Grant 2). This is a grant worth 70% of their average monthly trading profits, paid out in a single instalment covering 3 months' worth of profits, and capped at £6,570 in total. Up to 30th September there had been 168,100 claims in the SELEP area.  As a proportion of eligible claimants for Grant 2, Thurrock, Castle Point and Harlow and saw the highest rates at 72-73% (UK and SELEP average 67%).
The volume of people registering to claim Universal Credit is at 162,865, more than double that in March. June saw a reduction, but subsequent months have continued to show a slight increase. Kent & Medway has the highest volume at over 72,000 but South Essex has the highest rate at 7,526 per 100,000 (or 7.5%) of the working age population.  58% of claimants are male and by age, the biggest take up is within the 25-34 age range with 42,285 claimants.
Job postings in SELEP have continued to rise month on month since May, with postings over the last 30 days consistently higher than the than the same time in 2019.
Almost £800 million of grant payments (distributed by the LA) have been paid to businesses in the SELEP area, with Wealden receiving the highest single amount of any district at nearly £41m.
Over 75,000 businesses in SELEP have also accessed over £2.8bn through the Coronavirus Business Interruption Loan Scheme and the Bounce Back Loan Scheme.
The SELEP Growth Hub supported more business engagements in the period April – June 2020 than in the previous year combined and although enquiries have reduced significantly from their peak in April, they are still above pre COVID-19 levels.
---
National overview
There have been 556,528 cases of COVID-19 in England and 38,293 deaths, up to 14th The peak was seen in April, followed by a fast decline but rates started to rise significantly again in August.
The UK economy formally entered a recession after Quarter 2 (Apr to June) 2020 saw a record fall of 20.4%, which followed a fall of 2.2% during Quarter 1 (Jan to Mar) 2020.
Monthly gross domestic product (GDP) grew for the fourth consecutive month in August, rising by 2.1% but this was the slowest rate of expansion since April 2020 and GDP remains 9.2% below February 2020 levels.
Major companies continue to report significant job losses and this is expected to increase as the furlough scheme comes to an end and is replaced by the Job Support Scheme from 1st November
Based on the ONS Labour Market Survey redundancies increased by a record 114,000 between June and August 2020
ONS estimates for June to August show that the UK unemployment rate for all people was 4.5%; this is 0.6 percentage points higher than a year earlier and 0.4 percentage points higher than the previous quarter.
The number of people claiming Universal Credit continues to rise with over 2.7 million in September.
There was a small increase in newly incorporated companies from Q2 2019 to Q2 2020 and from Q1-Q2 2020, however net gain/loss cannot be assessed as at Q2 data due to a pause on company dissolvements.