Economic Data and Intelligence
This page provides an overview of key intelligence on the impact to date of COVID-19 on our economic output, our people and our businesses.
We will use this information to guide our response, ensuring that we can protect and boost the SELEP economy in the short, medium and long term.
Our Statement of Intent, South East Economy 2021 – Road to Recovery, sets out the LEP's areas of focus for the year ahead and beyond.
This page will be updated monthly.
South East Economy in 2021 - Road to Recovery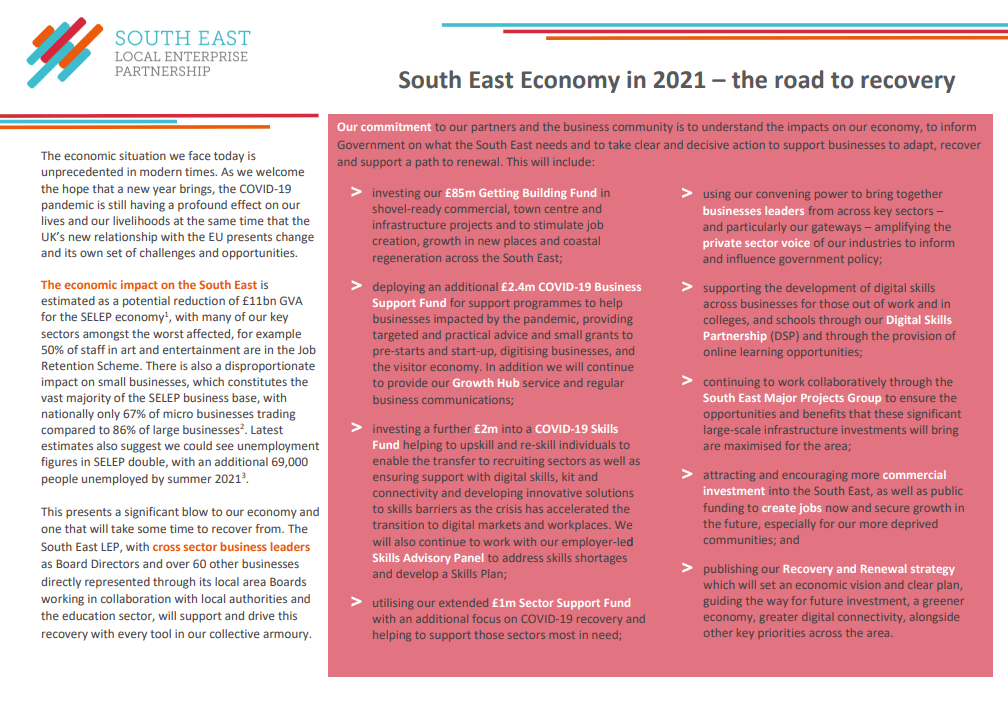 View the Statement
SELEP overview
Since September COVID-19 cases in SELEP have been rising rapidly; there were 35,997 cases in the month of November and up to 17th December the number had already reached 36,064. Infection rates have varied significantly across the four federated areas and the local authorities within SELEP, with Kent and Medway, South Essex and parts of Essex and East Sussex entering Tier 4: Stay at Home on 20th December. The remaining districts in Essex and East Sussex remained in Tier 2: High Alert as at 20th December.
The number of claims through the job retention scheme have decreased month on month since the summer, from a peak of 553,500 employments receiving support in June to 133,100 at the end of October. Medway still has the highest levels at 7,800 but one of the lowest proportions of eligible employments. Epping Forest and Uttlesford are slightly above the UK average for the proportion of eligible employment receiving support at 10% and 9%.
Up to 31st October there had been 174,400 self-employment income support claims in the SELEP area, which has seen a month on month increase since August when claims were at 151,900. As a proportion of eligible claimants for Grant 2, Thurrock, Castle Point and Harlow and saw the highest rates at 74-75% (UK and SELEP average 69%). Nationally, the sectors with the highest levels of claims were construction, transportation and storage and other service activities.
The latest data set from 15th December shows that the volume of people registering to claim Universal Credit in November was 155,801. This remains more than double that in March. Kent & Medway has the highest volume at over 68,000 but South Essex has the highest rate at 7,205 per 100,000 (or 7.2%) of the working age population. 58% of claimants are male. By age, the biggest take up is within the 25-34 age range with 39,815 claimants (26%).
Job postings in SELEP rose month on month between May and October but saw a slight decline in November. The last 30 days also indicate a decline, albeit with rates still higher than at the than the same time in 2019.
Over £800 million of grant payments (distributed by the LA) were paid to businesses in the SELEP area, with Wealden receiving the highest single amount of any district at over £41m.
As of 5th October, over 91,000 businesses had also received loans worth over £3.5bn under the government's two largest Covid-19 loan schemes, the Coronavirus Business Interruption Loan Scheme and the Bounce Back Loan Scheme.
The SELEP Growth Hub supported more business engagements in the period April – June 2020 than in the previous year combined. Although they are still lower than their peak in April, the number of enquiries rose significantly between October and November.
---
National overview
Rates are continuing to rise significantly and there have now been 1,664,511 cases of COVID-19 in England and 57,722 deaths, up to 16th December.
UK gross domestic product (GDP) is estimated to have increased by a record 16.0% in Quarter 3 (July to Sept) 2020, revised from the first estimate of 15.5% growth. Though this reflects some recovery of activity following the record contraction in Quarter 2 (Apr to June) 2020, the level of GDP in the UK is still 8.6% below where it was at the end of 2019, revised from an initial estimate of 9.7%.
The latest central scenario from the OBR predicted an 11.3% reduction in UK GDP this year, with a slow return to pre COVID-19 levels by the end of 2022.
Data from the ONS Labour Force Survey (LFS) released in October showed the employment rate has been decreasing since the start of the coronavirus pandemic, while the unemployment rate is now rising sharply. In the three months to September 2020, redundancies reached a record high of 314,000; an increase of a record 181,000 on the quarter.
ONS estimates for July to September show that the UK unemployment rate for all people was 4.8%; this is 0.9 percentage points higher than a year earlier and 0.7 percentage points higher than the previous quarter.
The Claimant Count increased slightly between October and November 2020, to 2.63 million; this includes both those working with low income or hours and those who are not working.
There were an estimated 525,000 vacancies in the UK in August to October 2020; this is 278,000 fewer than a year ago and 146,000 more than the previous quarter.
Major companies continue to report significant job losses, with many already having made redundancies before the extension of the furlough scheme was announced on 5th November, and new concerns regarding the impact of further restrictions brought in due to rising COVID-10 cases in December 2020.
There was a large increase in both the number newly incorporated companies and the number of company dissolvements between Q2 and Q3. However, it should be noted that there was a pause on dissolvements in place which would have impacted on Q2 data.
*Please note that for data relating to national schemes, previous months' volumes are subject to change as counting and reporting methodologies are improved over time. Therefore any supporting narrative and trend analysis provided by SELEP will refer to the most recent figures available.