Economic Data and Intelligence
This page provides an overview of key intelligence on the impact to date of COVID-19 on our economic output, our people and our businesses.
We will use this information to guide our response, ensuring that we can protect and boost the SELEP economy in the short, medium and long term.
Our Economic Recovery and Renewal Strategy – Working Together for a Faster, Smarter and More Sustainable Economic Recovery – sets out how we will work with partners to support a path to recovery and renewal in the short to medium term.
It outlines the clear opportunities and needs of the SELEP area and the actions that we will take to drive the South East into new economic growth as the country recovers from the COVID-19 pandemic and establishes new ways of working internationally following the EU Transition.
This page will be updated monthly.
Working Together for a Faster, Smarter and More Sustainable Economic Recovery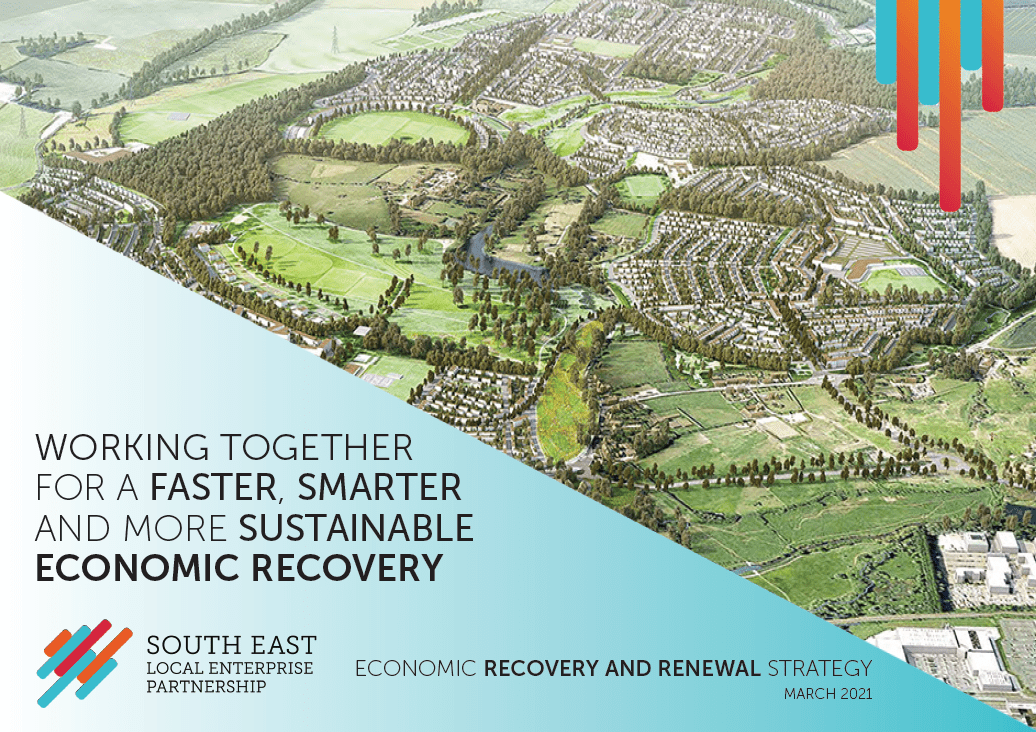 View the report
SELEP overview
The number of employee jobs which have been furloughed through the Coronavirus Job Retention Scheme (CJRS) reduced to 281,600 in February, down from 292,200 in January. With many sectors now adapting towards remote working and COVID-safe working practices, the number of furloughed employees remained lower than levels seen in July (299,500), and significantly below the levels seen at the peak of the first lockdown in May (476,800).
A total of 164,800 claims were made for Grant 3 of the Self-Employment Income Support Scheme which opened for claims on 30 November 2020, which was 65% of the potentially eligible self-employed. This compared to 69% for Grant 2 and 77% for Grant 1.
The percentage of working age people (aged 16 to 64) included in the Claimant Count rose to 6.2% in February, up from 5.9% in January. This was slightly below the rate in May last year of 6.4%. Individuals on furlough or in receipt of Self-Employment income support may be eligible for further support through universal credit and if so, are counted within the Claimant Count.
Since the beginning of the pandemic, local authorities across SELEP had issued £897.5 million in coronavirus support grants to small and medium sized businesses up to the 18th January. Most of this (£803 mill.) was issued last year through the Small Business Grants Fund (SBGF) and the Retail, Hospitality and Leisure Business Grants Fund (RHLGF) which closed in August 2020. The current main grant scheme is the Local Restrictions Support Grant, for which payments are still in progress. Up to the 17th January, local authorities had paid out £40.6 million under this scheme.
As of 11 January, over 104,000 businesses across SELEP had received loans worth over £4.1bn under the government's two largest Covid-19 business loan schemes, the Coronavirus Business Interruption Loan Scheme (CBILS) and the Bounce Back Loan Scheme (BBLS). Average loan size has been £237,000 for CBILS and £30,100 for BBLS.
The SELEP Growth Hub supported 1,043 business engagements, across 483 unique businesses in March, which was down from January and February, but with activity remaining significantly higher than pre-COVID levels.
Federated Area and Local Authority Data
---
National overview
The latest estimate from the quarterly national accounts is that UK Gross Domestic Product (GDP) grew by 1.3% in Quarter 4 (Oct to Dec) 2020, following 16.9% growth in Quarter 3. Over the year 2020 as a whole, GDP contracted by 9.8%, marking the largest annual fall in UK GDP on record.
The latest official estimate for service sector output shows that output fell in January to the lowest level since July 2020. This however was significantly higher than output levels through April to June last year, showing increased resilience of businesses to national lockdown measures.
Companies House data for the last two quarters of 2020 shows a significant increase in new company formations, above past trends. Following a large drop in the number of companies being dissolved in quarter 2, due to a pause on the strike off process, numbers picked up in quarter 4 and were also higher than past trends.
The seasonally adjusted UK unemployment rate increased to 5.1% for Quarter 4, 2020, up from 3.8% in Quarter 4, 2019.
Seasonally adjusted UK payroll job numbers from HMRC Pay as You Earn Real Time Information systems, following constant falls from April 2020, showed an increasing trend from November through to February 2021, reaching 28.3 million, which compares to 29.0 million in February 2020, a net fall of about 700,000 payroll jobs over the course of the year.
Job vacancy levels across the UK remain subdued compared to pre-pandemic levels, and in February 2021 were 68% below the level in 2019.
The average number of jobs in the UK on furlough was 4.8 million during February which was 15.9% of eligible payroll jobs. This was much less than the 8.7 million average for May last year, and also lower than the 5.7 million average for July.
Across the UK, 2.19 million claims were made for Grant 3 of the Self-Employment income support scheme, which was 65% of the potentially eligible self-employed       population, and down from 77% for grant 1.
National Context and Sector Analysis
---
*Please note that for data relating to national schemes, previous months' volumes are subject to change as counting and reporting methodologies are improved over time. Therefore, any supporting narrative and trend analysis provided by SELEP will refer to the most recent figures available.