Economic Data and Intelligence
This page provides an overview of key intelligence on the impact to date of COVID-19 on our economic output, our people and our businesses.
We will use this information to guide our response, ensuring that we can protect and boost the SELEP economy in the short, medium and long term.
Our Economic Recovery and Renewal Strategy – Working Together for a Faster, Smarter and More Sustainable Economic Recovery – sets out how we will work with partners to support a path to recovery and renewal in the short to medium term.
It outlines the clear opportunities and needs of the SELEP area and the actions that we will take to drive the South East into new economic growth as the country recovers from the COVID-19 pandemic and establishes new ways of working internationally following the EU Transition.
Please see below for an economic profile of the South East LEP area, which is updated on a monthly basis.
Working Together for a Faster, Smarter and More Sustainable Economic Recovery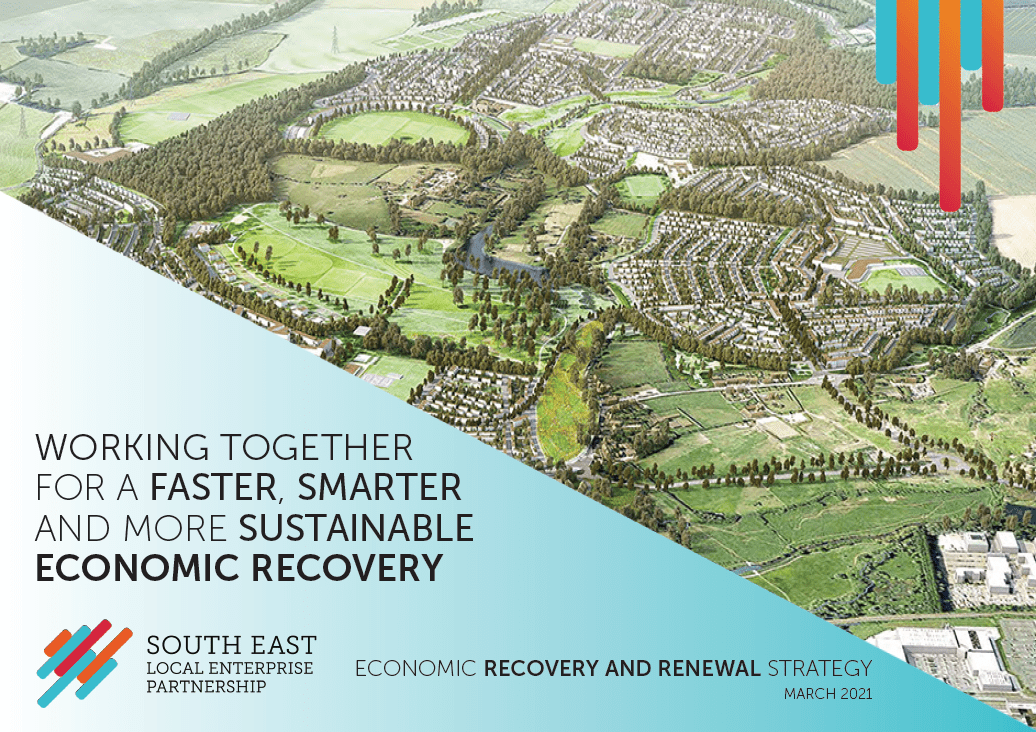 View the report
SELEP overview
The number of employee jobs on furlough through the Coronavirus Job Retention Scheme (CJRS) reduced to 69,400 at the end of September. This was 4.0% of resident jobs and was 13,000 down from August, and 222,800 down compared with the previous peak at January month-end.
A total of 87,000 claims were made for Grant 5 of the Self-Employment Income Support Scheme which was 35% of the potentially eligible self-employed. This compares to 57% for Grant 4 and 77% for Grant 1.
The percentage of working age people (aged 16 to 64) included in the Claimant Count reduced to 4.4% in October down from 6.2% in February. This was the lowest rate seen since last April but still much higher than the 2.8% last March. The claimant rate for younger adults aged 18 to 24 has shown a good reduction down to 4.9% compared to 4.9% for those aged 25 to 49, with the gap between age groups eliminated.
PAYE payroll numbers for October were 1.0% above the February 2020 level, having increased significantly in recent months, and are now 70,000 higher than the low point in November.
There were over 167,000 unique job postings advertised in October which was 46.9% higher than the same month in 2019.
Since the beginning of the pandemic, local authorities across SELEP had issued £1,533.1 million in coronavirus support grants to small and medium sized businesses up to the 29 August. Since November 2020, a total of £499.7 million has been paid out through the Local Restrictions and Additional Restrictions grant schemes, with a further £188.9 million of grants issued through the Restart grant scheme.
Up to the end of March over 114,000 loans have been taken up by businesses across SELEP with a total value of £4.87bn under the government's two largest Covid-19 business loan schemes, the Coronavirus Business Interruption Loan Scheme (CBILS) and the Bounce Back Loan Scheme (BBLS). Average loan size was £240,000 for CBILS and £30,000 for BBLS.
The SELEP Growth Hub supported 433 business engagements, across 266 unique businesses in October, with support activity having returned to more normal pre-pandemic levels.
Federated Area and Local Authority Data
---
National overview
UK economic output, as measured by Gross Domestic Output (GDP), grew by 1.3% in the third quarter of 2021 to reach 2.1% below pre-pandemic levels.
Service sector output continued to increase during October, although the growth rate is now slower than that seen earlier in the year. Output for October was 0.3% below the pre-pandemic level in February 2020, compared to 9.3% below in January.
Since September last year there has seen a significant increase in the UK rate of new company formations. However, business demography data for active businesses showed a net loss of 16,000 businesses in the quarter to September, bringing the position for the last 12 months to a net loss of 1,600 active businesses.
The seasonally adjusted UK unemployment rate reduced to 4.3% in the three months to September 2021 down from 4.7% in Quarter 2, 2021, having peaked at 5.2% in the last quarter of 2020. The unemployment rate for young people aged 18 to 24, although high at 10.4%, has reduced more than for other age groups so far this year.
Seasonally adjusted UK payroll job numbers from HMRC Pay as You Earn Real Time Information systems increased significantly from April through to October to reach 29.3 million, which was 0.8% higher than in February 2020.
There has been a significant increase in wage rates in the 12 months to October 2021 with the largest increases being in Professional Services.
Job vacancy levels across the UK have increased steadily since February and in October were 50% above pre-pandemic levels, reaching an all-time high.  
The number of jobs in the UK on furlough decreased slightly in August to 1.1 million, down from 1.4 million the month before.
Across the UK, 1.26 million claims were made for Grant 5 of the Self-Employment income support scheme, which was 38% of the potentially eligible self-employed population, and down from 77% for grant 1.
National Context and Sector Analysis
---
*Please note that for data relating to national schemes, previous months' volumes are subject to change as counting and reporting methodologies are improved over time. Therefore, any supporting narrative and trend analysis provided by SELEP will refer to the most recent figures available.