Invitation for Quotation to deliver the Enterprise Adviser Network across Essex

DEADLINE EXTENDED
The Enterprise Adviser Network (EAN) is a national network connecting schools and colleges with employers and careers programme providers and supports them to work together to provide young people with effective, high-quality encounters with the world of work.
The Careers Enterprise Company and Thurrock Council are seeking a new organisation to fulfil the contract delivery for the Essex County area, ensuring join up across the geography. This includes match from the 1st July 2020 and subsequently into the 2020/21 academic year until 31st August 2021, with match funding beyond that date according to DfE Grant Funding Agreements.
To achieve full coverage in Essex inclusive of all schools and colleges would require 5 Enterprise Co-ordinators (including a Senior Co-ordinator with a caseload of 10 schools only).
Invitation for Quotation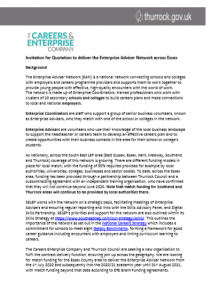 Click here to download
The chosen delivery partner would therefore need to match fund 50% of staffing costs, the annual maximum match funding required is £130,000. The minimum match funding required is £100,000. Options for partial coverage are included in the attached. The deadline for a one page outline has been extended to 5pm on Friday 29th May with further information as per the invitation to quotation which contains further information