Social Enterprise
In December 2014, SELEP launched Jobs and Innovation: making the South East the Capital of Social Enterprise recognising the major contribution that social entrepreneurs and enterprises can make to the South East economy. With Ministerial and Cabinet Office encouragement and the support of social enterprises from across the South East, we are working hard to develop our Social Enterprise Strategy. This includes:
Working with the sector to shape the allocation of SE LEP European Funding, particularly our match funding arrangement with the Big Lottery
Adding social value by promoting innovative local delivery arrangements, as with Royal British Legion Industries which provides signs for major transport projects nationally
Identifying new forms of investment and promoting social finance with the SE LEP area
Providing targeted sector support, as with our championing of the creative industries
SELEP Social Enterprise Working Group Paper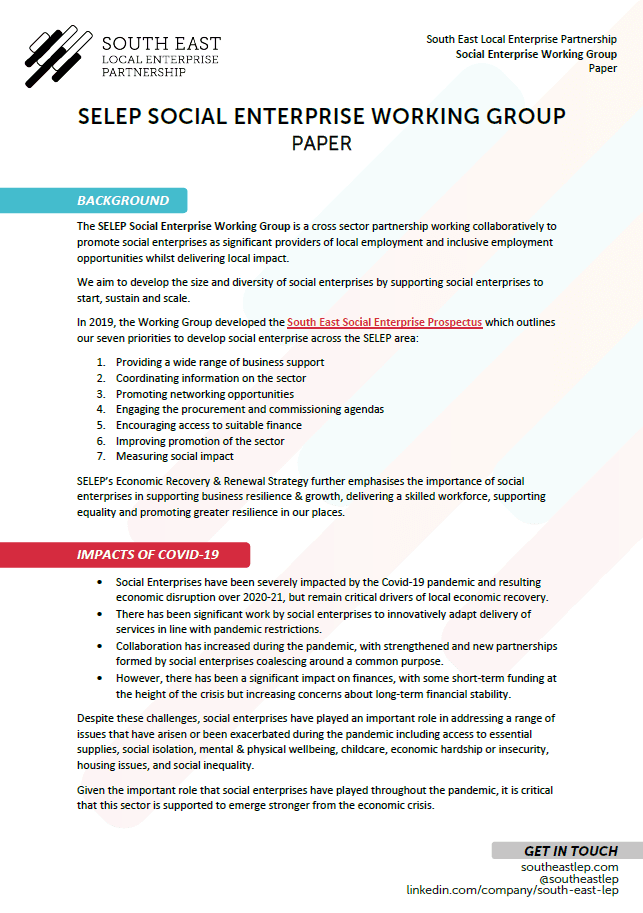 Download the SEWG Paper
We have been delighted with the support we have had in advancing this work including a Ministerial visit to discuss our support for those further away from the labour market and a Ministerial roundtable to discuss new opportunities for social finance.
Social Enterprise Working Group Minutes
---
---
---
---
---