COVID-19 Recovery Funds Programme: Case Studies
A selection of case studies from SELEP's COVID-19 Recovery Funds programme, which includes the Skills COVID-19 Recovery Fund and the COVID-19 Business Support Fund.
SELEP's COVID-19 Recovery Funds Programme is a £4.4m programme of support in the areas of business support and skills. It was created in response to the COVID-19 pandemic, designed to support the recovery of the economy in 2021, investing directly in those areas across the South East most affected by the pandemic, and providing businesses with the tools they need to build back stronger.
Find out more about SELEP's COVID-19 Recovery Funds Programme here.
---
SELEP Skills COVID-19 Recovery Fund
Shaw Trust – SELEP Covid Recovery Academy
Georgina
Describe your situation when you joined the programme
What made you join the programme?
What challenges do you feel you have faced prior to joining with us including health, family, education, and personal etc.
Describe your experience of your past education/employment
I left my job in June 2021 due to mental health issues including Anxiety and Depression, and from this point I was on universal credit which generated my referral to Jets and then subsequently the covid recovery academy. I attended hot job sessions and a work placement induction – which was absolutely fantastic.
How has Covid-19 affected you personally?
How do you feel this programme has helped you to overcome your challenges?
Personally, I was even more isolated than I already was. This program has widened my support network from my family and given me the preparation to re-enter the world of work.
Give a brief overview of what you have achieved i.e., received access to a wide range of vacancies, targeting jobs with local employers, or any qualifications obtained.
How do you feel this programme has increased your employment opportunities?
Please explain how your mock interviews, guaranteed interviews or work experience have increased your employment prospects?
I had a work experience induction and interview skills prep to prepare me for upcoming interviews, so that I could perform to my capabilities.
Do you feel you have received sufficient support?
Did you feel you have received adequate timing on this programme to assist you into employment?
Please provide a short conclusion to your overall experience?
Both Evie and Eric made it very clear that they were always there to support me throughout, and this was very reassuring.
Overall, the program is brilliant – it has helped me to get back on my feet with the support and resources I needed to secure long term employment.
What would you tell others about your experience on this SELEP Covid Recovery Skills Programme?
This has been a positive experience – I encourage anyone to accept this help and support.
Tech Talent Academy – SELEP Digital Skills Programme
Korede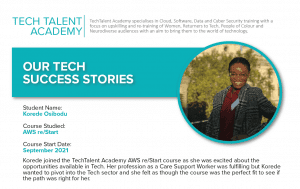 View the case study
Davis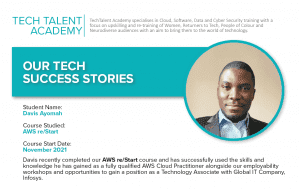 View the case study
---
SELEP COVID-19 Business Support Fund
WSX Enterprise – Starting and Succeeding in Business and Adapting With Digital